Russian Airstrikes in Idlib, Northwestern Syria, Leave Nine Dead and Wounded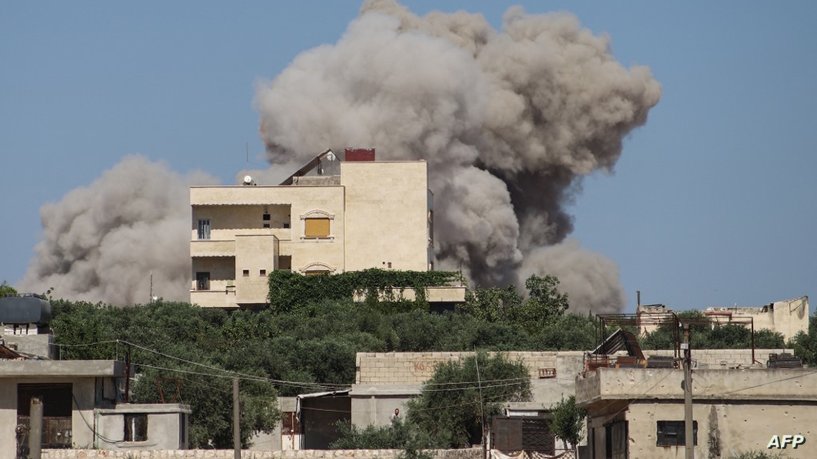 2023-08-05T15:28:41+00:00
Shafaq News/ On Saturday, the Syrian Observatory for Human Rights (SOHR) reported that a series of Russian air strikes on the outskirts of Idlib, northwestern Syria, resulted in nine Syrian individuals killed or injured.
According to the SOHR, the airstrikes claimed the lives of three family members, including a woman and a child, while six others sustained injuries. Rescue teams are currently engaged in efforts to extract survivors from the debris.
The targeted area housed bases belonging to armed factions, the Observatory noted, as it highlighted the impact of the strikes on the conflict-ridden region.
Since 2011, the Syrian conflict has been devastating, resulting in the loss of over half a million lives. The Syrian regime, supported by Russian and Iranian forces, has successfully reclaimed significant territories once controlled by various armed groups in the early stages of the conflict.
Yet, despite these gains, numerous areas remain beyond the control of the Syrian government, including regions held by Turkish forces and their allied factions in the northern part of the country, nearly half of Idlib governorate under the authority of Tahrir al-Sham (formerly Jabhat al-Nusra), as well as territories controlled by Kurdish fighters in the north and northeast.
A ceasefire brokered by Turkey in 2020 has held for the most part, despite intermittent clashes. Nonetheless, June saw a surge in violence, particularly in Idlib.
On June 25, Russian airstrikes targeted the governorate, resulting in the deaths of 13 individuals. This attack, labeled by the Observatory as the deadliest of the year at the time, claimed the lives of nine civilians, including two children. Many casualties occurred in a strike on the bustling vegetable market in Jisr al-Shughour.