Leader Barzani and the Syriac Catholic Patriarch condole the victims' families of the earthquake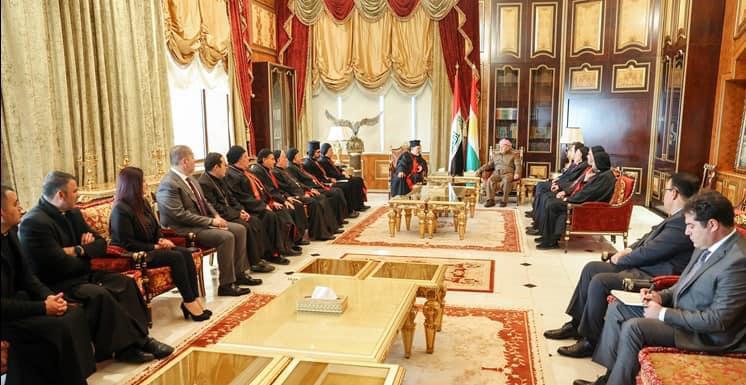 2023-02-06T10:59:58+00:00
Shafaq News/ The leader of the Kurdistan Democratic Party (KDP), Masoud Barzani, received on Monday Mar Ignatius Joseph III Yonan, the Syriac Catholic Patriarch of Antioch and all the East of the Syriacs for the Syriac Catholic Church, and an accompanying delegation of bishops of the Syriac Catholic Church in Kurdistan Region, Iraq, and the Middle East.
Barzani's office said both sides condemned the burning of the holy Quraan by a Swedish-Danish far-right politician, stressing the importance of respecting the "holiness and human values."
In turn, leader Barzani stressed that the Kurdish people are "proud of the culture of coexistence" in Kurdistan.
The Patriarch thanked leader Barzani for his efforts to "protect the principles of coexistence, citizenship, and peace among the Kurdish and Iraqi components."
The duo expressed their deepest condolences to the families of the victims of this morning's earthquake in Turkey, Syria, and several Middle Eastern countries.