Kurdistan Presidency releases an official readout for the meeting with the Pope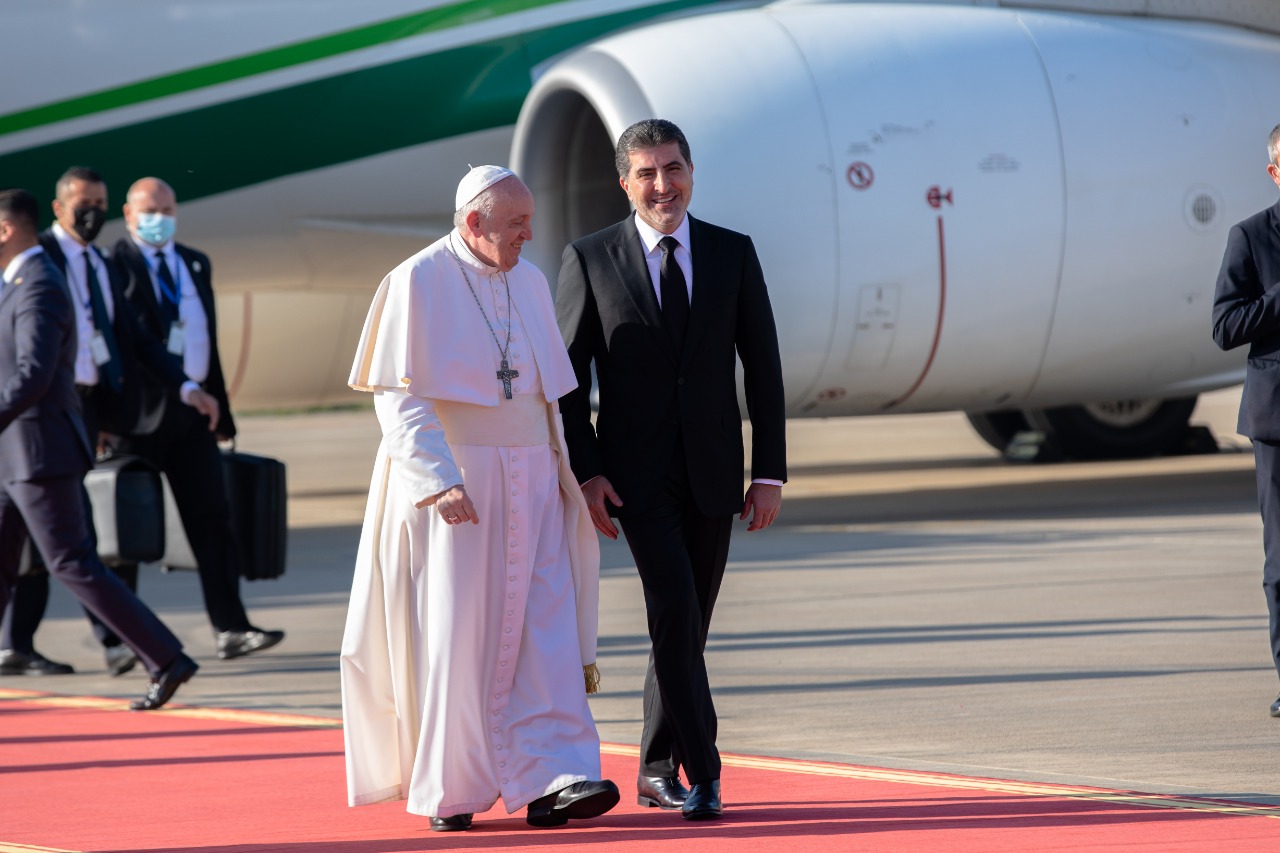 2021-03-07T11:01:01+00:00
Shafaq News/ Pope Francis expressed his gratitude to the President of Kurdistan, Nechirvan Barzani, on Sunday for the protection the region provided to the displaced Christians and other minorities during a brief meeting at Erbil international airport on the third day of his official visit to Iraq and the Kurdistan Region.
"I am grateful that, despite being in a war, you received the displaced Christians and other minorities from Mosul, Nineveh Plains, and Qaraqosh. You opened your arms to Christians," Pope Francis told President Barzani and other Kurdish officials at the airport, according to an official readout issued by the Presidency of the Region, "The enemy came to destroy this country, but you served and opened your arms to the displaced Christians and other groups. War brings destruction, but you defeated the enemy and reconstructed your country."
President Barzani reassured the pope that Christians are an inseparable part of the people of Kurdistan, and the Kurdish authorities will do everything in their power to protect all minorities.
"We reject terrorism and extremism. We will never allow any religious or ethnic groups to become victims of terrorism and extremism," President Barzani said, "We have always been in favor of peace and dialogue."
"I came to bless this land and its soil... I thank you for all you have done and are doing with all the religious groups," Pope Francis said, "For a long time, I have wanted to visit the Kurdistan Region. I am pleased that I managed to respond to your invitation today."
Describing religious and ethnic pluralism as a "source of richness and strength," Barzani said, "Christians are a fundamental and inseparable part of Kurdistan. This peace-loving community has played and will play a critical role in reconstructing, developing, and protecting this land. We will not refrain from doing everything in our power to protect them."
"Your Holiness' visit has brought blessings for all of us. We ask for your prayer and every assistance that you can provide for Kurdistan and its people," said Barzani.
Amongst the Kurdish officials who received the pope were former President Masoud Barzani, Deputy Prime Minister Qubad Talabani, and current Prime Minister Masrour Barzani, who played as the head of the Kurdistan Region Security Council during the war with ISIS a vital role in defeating the militant group.