Turkey votes in election runoff, Erdogan well placed to sustain rule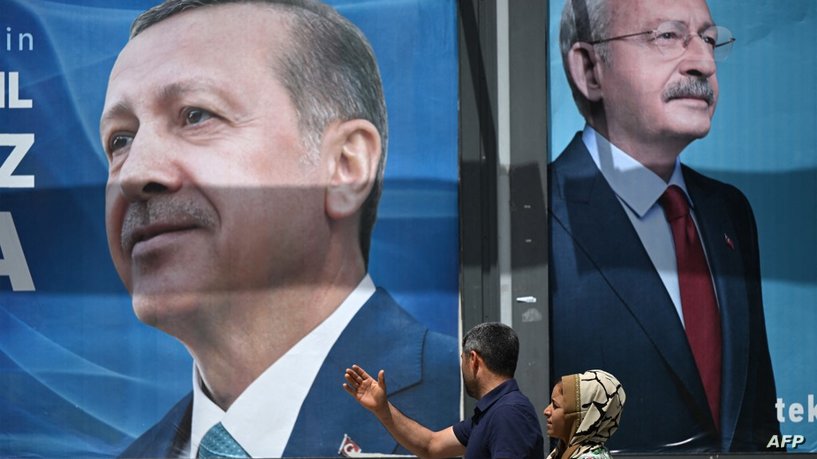 2023-05-28T15:10:36+00:00
Shafaq News / Turks voted on Sunday in a presidential runoff that could see Tayyip Erdogan extend his rule into a third decade and persist with Turkey's increasingly authoritarian path, muscular foreign policy and unorthodox economic governance.
Erdogan, 69, defied opinion polls and came out ahead with an almost five-point lead over his rival Kemal Kilicdaroglu in the first round on May 14. But he fell just short of the 50% needed to avoid a runoff, in a race with profound consequences for Turkey itself and global geopolitics.
His unexpectedly strong showing amid a deep cost of living crisis, and a win in parliamentary elections for a coalition of his conservative Islamist-rooted AK Party (AKP), the nationalist MHP and others, buoyed the veteran campaigner who says a vote for him is a vote for stability.
Polls closed at 5 p.m. (1400 GMT) after opening at 8 a.m. (0500 GMT). The outcome is expected to start becoming clear by early evening local time. Polling stations were reportedly quieter in many places than two weeks ago, when turnout was 89%.
The election will decide not only who leads Turkey, a NATO-member country of 85 million, but also how it is governed, where its economy is headed after its currency plunged to one-tenth of its value against the dollar in a decade, and the shape of its foreign policy, which has seen Turkey anger the West by cultivating ties with Russia and Gulf states.
Erdogan supporters gathered at a school near his home on the Asian side of Istanbul where he voted around midday (0900 GMT), before shaking hands and talking with the crowd.
"With God's permission he will win. The country has many problems but if anyone can solve them, he can," said Nuran, who came to vote with her three-year-old daughter.
In Ankara, 32-year-old Gulcan Demiroz said she hoped the vote would bring change and that her friends would otherwise go abroad, as she was considering doing, for a better life.
(Reuters)