Second runner-up endorses Erdogan in Turkey's presidential run-off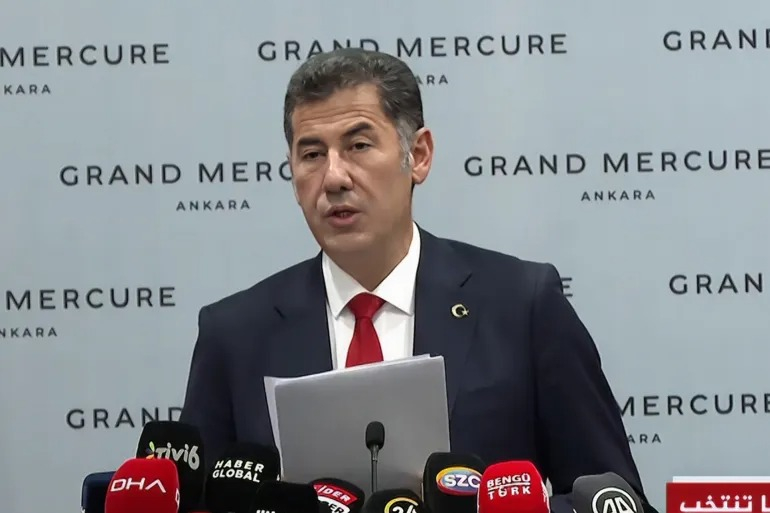 2023-05-22T17:17:34+00:00
Shafaq News/ Sinan Ogan, who finished third in last week's Turkish presidential election, has thrown his support behind the incumbent, Recep Tayyip Erdogan, for the the run-off that takes place on May 28.
Ogan endorsed Erdogan at a news conference in the capital Ankara on Monday and said his campaign made nationalists "key players" in Turkish politics.
"We believe our decision will be the right decision for our country and nation," Ogan said, citing Erdogan's parliamentary majority as a reason for his decision.
"It is important that the newly elected president is under the same [leadership] as the parliament. [Kilicdaroglu's] alliance on the other hand, could not display sufficient success against the People's Alliance which has been in power for 20 years, and could not establish a perspective that could convince us about the future."
The decision to back Erdogan was based on a principle of "non-stop struggle [against] terrorism", he added.
The announcement comes as Turks head back to the polls on Sunday to decide whether Erdogan or the main opposition leader, Kemal Kilicdaroglu, will lead the country for the next five years.
In the first round of voting on May 14, Erdogan received 49.52 percent of the vote, falling just short of the 50-percent majority needed to secure an outright victory.
Kilicdaroglu, the candidate of a six-party opposition alliance, bagged 44.88 percent of the votes. Ogan finished third with 5.17 percent, prompting some analysts to call him a potential "kingmaker" in the run-off.
Turkey Alliances interactive
The former academic was the candidate for the right-wing ATA Alliance, led by the Victory Party, which is known for its anti-immigrant stance in Turkey, the world's biggest refugee host nation.
Kilicdaroglu has pledged to roll back much of Erdogan's sweeping changes to Turkish domestic, foreign and economic policies, including reversing an unorthodox economic programme that many economists have said has helped devalue the lira and cause inflation to surge.
Erdogan has said a vote for him in the run-off is a vote for stability.
Ogan's endorsement of Erdogan came after he held a meeting with the Turkish leader in Istanbul on Friday. No statement was made following the one-hour meeting.
Seda Demiralp, associate professor at Isik University, told Al Jazeera from Istanbul that Ogan's endorsement of Erdogan was "expected since yesterday, when he suggested that he will promote continuity and stability", keywords used in Erdogan's campaign.
"In his speech today, he said he believed both the executive branch and legislative branch being dominated by the same party is a good thing for stability, and he justified his decision based on this argument," she said.
"It was also relatively expected because Kilicdaroglu is most likely to lose in the second round. He is facing an uphill race."
On Tuesday, the Victory Party will separately announce its own stance on the run-off.
Analysts said it is not certain that all of Ogan's supporters would go to Erdogan, adding that some were likely to shift to Kilicdaroglu while others might chose not to vote in the run-off.