Russian Drone Attacks Ukrainian Capital and Odesa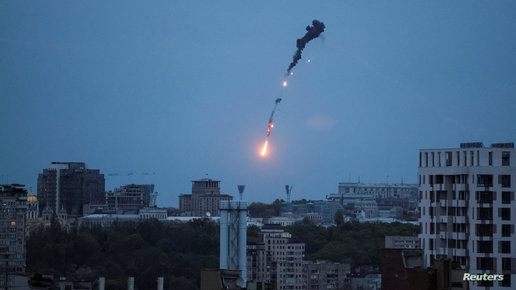 2023-08-02T06:38:20+00:00
Shafaq News/ Russian Drone Attacks Target Kyiv and Odesa, Escalating Tensions Amidst Regional Conflict
In a concerning escalation, Russian forces executed drone attacks on Wednesday, aiming at the Ukrainian capital, Kyiv, and the strategic city of Odesa. The aftermath witnessed substantial material losses within Odesa's port and critical infrastructure, intensifying fears about the ongoing conflict's impact.
Notably, the series of Russian attacks on Ukrainian infrastructure commenced on October 10, 2022, a mere 48 hours following an alleged Ukrainian intelligence-led attack on the Crimean Bridge, as disclosed by the Russian agency Sputnik.
On Wednesday, alarm sirens blared across Kyiv and its environs, echoing a heightened alert across Ukraine.
Simultaneously, on Tuesday, Russian military forces successfully thwarted what they labeled a Ukrainian "terrorist attack." Anti-aircraft units intercepted drones destined for Moscow, averting a potentially catastrophic incident.
The Russian Defence Ministry, via Telegram, confirmed that the Kyiv regime had attempted a drone attack on targets within Moscow and its surrounding region on August 1. As a result of swift action, two drones were neutralized in western suburban areas.
The aftermath of the foiled attack invoked concerns among residents, drawing attention to safety and security questions. The American New York Times reported.
In a separate incident, a drone reportedly succumbed to radio-electronic countermeasures, relinquishing control and ultimately crashing into Moskva Citi, a business center in the Russian capital. This unforeseen turn of events prompted temporary suspending operations at Vnukovo Airport, one of Moscow's primary aviation hubs, with normal operations later resuming.
Revelations by Moscow Mayor Sergei Sobyanin disclosed that one of the drones involved had targeted the same tower at Moskva Citi, indicating a deliberate pattern of aggression. The collision damaged the glass façade on the building's 21st floor.
No injuries were reported in the aftermath of the drone attacks.