KRG's International Advocacy Office Calls for International Monitoring of Kirkuk Situation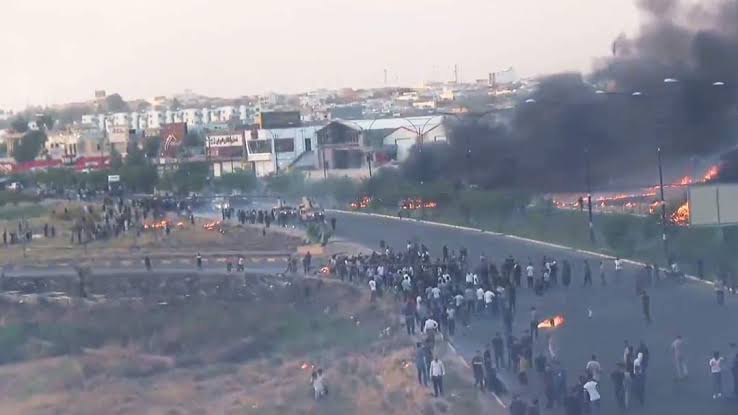 2023-09-04T19:07:48+00:00
Shafaq News/ The Office of the Coordinator for International Advocacy in the Kurdistan Regional Government (KRG) has issued a call to all international stakeholders, including the United Nations Mission in Iraq (UNAMI), United Nations agencies, and international organizations, to closely monitor the situation in Kirkuk and the reported violations committed by "security groups" in the region. The primary objective of this appeal is to promote peaceful coexistence and ensure the protection of human rights.
In an official statement, the KRG's Office of International Advocacy expressed concern over the recent deterioration of the situation in Kirkuk, particularly after a peaceful demonstration organized by the residents of Kirkuk. The protest sought to reopen the road between Erbil and Kirkuk, an issue of considerable importance to the region's people.
The statement highlighted the disturbing developments in Kirkuk, with reports of arbitrary arrests carried out by security groups. The situation escalated, resulting in the detention of around 40 individuals and the injury of 15 others, some of whom required medical attention. Additionally, the statement noted instances of physical assaults, including throwing stones, leading to further injuries.
The events of September 2 also resulted in casualties, including fatalities and injuries, as well as the apprehension of numerous individuals by security forces. These actions are viewed as "contravening human rights principles and international law, raising significant concerns within the international community."
Despite reopening roads in Kirkuk, the statement underscored that certain parties had conducted home raids and sought to identify local citizens who participated in the peaceful demonstration. Such actions are considered constitutional violations and counter the principles of coexistence.
To facilitate the resumption of political activities by Kurdish parties in Kirkuk, the federal government decided to hand over their headquarters. However, extremist groups continue to obstruct the return of other ethnic and political entities as political and social actors in the city.
Kirkuk, situated in northern Iraq, lies within the disputed territories and boasts a diverse population comprising Kurds, Arabs, Turkmen, and Christians. The city's security situation has been marked by complexity and volatility, with tensions often escalating between ethnic and political factions.
Kirkuk's status remains disputed, as the Kurds assert its inclusion within their autonomous region while the Iraqi government maintains its integral part in Iraq. The United Nations has proposed a referendum to determine Kirkuk's status, though a consensus on the terms of such a referendum has yet to be reached.
The events in Kirkuk on October 16, 2017, when Iraqi forces and allied groups moved to retake the city from Kurdish Peshmerga forces following the Kurdish independence referendum, had significant repercussions. The takeover of Kirkuk dealt a substantial blow to the Kurdish independence movement, triggering displacement and a security vacuum in the region. The situation also had geopolitical implications, straining relations between Iraq and Iran, as Iran was seen as supporting the Iraqi forces. The international community, including the United States, expressed concern and condemned the events in Kirkuk but refrained from military intervention.