Russian airstrikes hit western Ukraine, Causing casualties and damage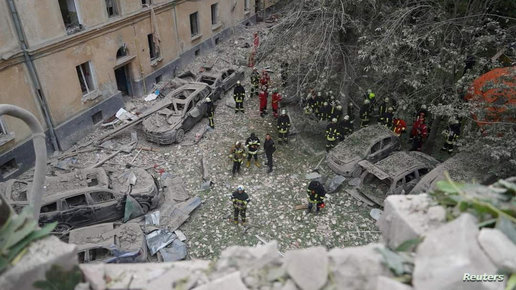 2023-08-15T18:48:50+00:00
Shafaq News/ Russian air strikes targeted regions in west Ukraine, far removed from the active front lines, resulting in deaths and extensive damage.
Ukrainian authorities reported that three individuals were killed at an industrial facility in the Volyn region, with over a dozen others wounded. The assaults, which involved launching cruise missiles, also caused considerable destruction to buildings and infrastructure.
Notably, the affected areas include the Lviv region, where the missile attacks are reportedly the most substantial since the Russian invasion in February 2022.
The province is located near the border with NATO member Poland and is considered a relative haven away from active conflict.
Swedish manufacturer SKF confirmed that its factory in Lutsk, the capital of the Volyn region, was hit by a missile, resulting in the deaths of three employees. The air raids left a trail of damage, with rescuers working to retrieve survivors from the debris.
The strikes also impacted the southeastern city of Dnipro, where a business enterprise and sports complex were targeted, resulting in additional injuries.
Ukrainian officials decried the attacks, which have inflicted suffering on civilians and harmed essential infrastructure. Prime Minister Denys Shmyhal noted that eight regions' civilian facilities, including schools and hospitals, were among the damaged sites.
Ukraine's air force reported engaging with the incoming missiles, successfully downing 16 at least 28 cruise missiles launched during the strikes. Ukrainian spokesperson Yuriy Ihnat indicated that the erratic flight paths of the incoming missiles posed challenges to air defense systems.
Ukrainian authorities reiterated their desire for F-16 fighter jets from Western allies, asserting that their ability to counter incoming threats would be significantly enhanced with such equipment. An international coalition of 11 nations is slated to commence training Ukrainian pilots on F-16 aircraft this month.