China Plans New Middle East Summit as Diplomatic Role Takes Shape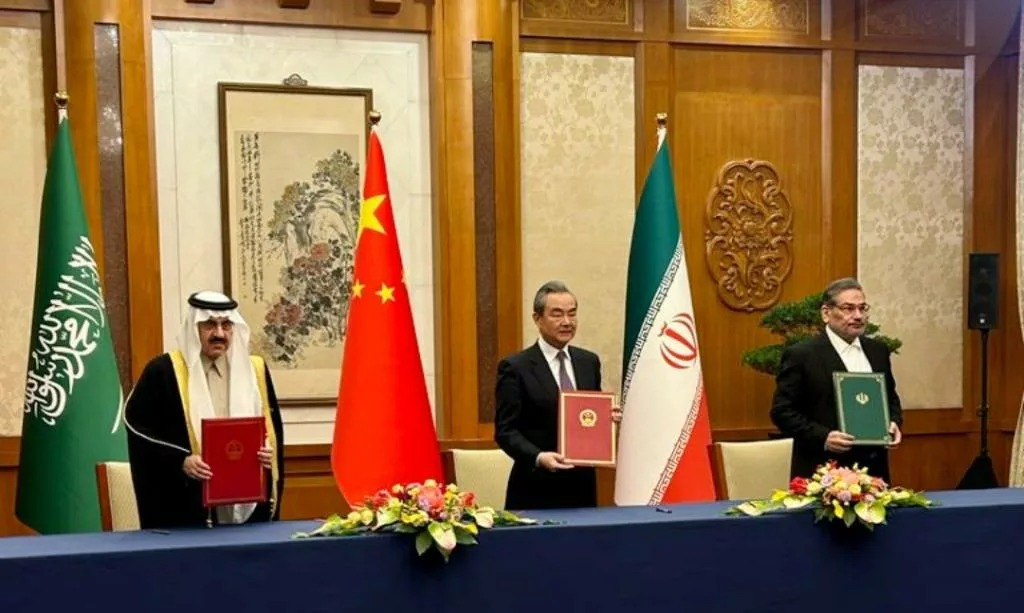 2023-03-13T13:24:59+00:00
Shafaq News/ When Arab leaders met Xi Jinping at a regional summit in Riyadh last December, the Chinese head of state pitched an unprecedented idea: a high-level gathering of Gulf Arab monarchs and Iranian officials in Beijing in 2023, people familiar with the plan said.
Days later, Tehran signed on as well.
By Friday, China had brokered a deal to restore relations between Iran and Saudi Arabia, which had gone seven years without ties. The broader summit between Iran and the six-nation Gulf Cooperation Council, which hasn't previously been reported, is on track for later this year, the people said.
Xi's diplomatic initiative shows that Beijing sees a central role for itself as a new power broker in the Middle East, a strategic region where the U.S. has been the most influential outside player for decades. No longer focused exclusively on energy and trade flows, China's foray into the region's politics signals a new chapter in competition between Beijing and Washington.
The Saudi-Iran deal, hashed out behind closed doors in Beijing last week, takes on some of the most sensitive issues between two countries that have been on opposite sides of proxy conflicts across the Middle East for years.
Saudi Arabia agreed to tone down critical coverage of Iran by Iran International, a Farsi-language satellite news channel funded by Saudi business people, officials from the two countries said. Tehran has accused Iran International of instigating a monthslong protest movement. The head of Iran's intelligence agency has called it a terrorist organization.
Iran International says it is independent. "Iran-Saudi relations have never been a factor influencing our reporting or editorial guidelines: there is no change to these," said a spokesman for Volant Media, the channel's owner.
According to Saudi, Iranian and U.S. officials, Iran agreed to stop encouraging cross-border attacks on Saudi Arabia from Yemen by Iranian-backed Houthi rebels, who took over swaths of the country and have been fighting against a military coalition led by Saudi Arabia since 2015.
A truce has held for almost a year, and the Houthis and the Saudis have been engaged in direct talks for months aimed at ending the war, also a top Biden administration goal.
The foreign ministries of China, Iran and Saudi Arabia didn't respond to requests for comment.
The deal allows Chinese leaders to "advance perceptions of their own global role, and they undermine the U.S. contention that a U.S.-led rules based order is the only responsible choice governments can make, and the only way to advance security," said Jon Alterman, a Mideast expert at the Center for Strategic and International Studies think tank.
Reopening embassies and renewing diplomatic relations isn't likely to immediately lessen the longstanding security tensions that have divided Riyadh and Tehran for decades and fueled their competition for regional dominance.
Some Western and Iranian analysts say the deal won't be sustainable without the blessing of the Islamic Revolutionary Guard Corps, the hard-line faction that has made armed influence in the Middle East a cornerstone of its policy. The IRGC hasn't weighed in publicly on the deal.
There have been several aborted attempts to patch up relations since the two countries cut ties in 2016 after the Saudi embassy in Tehran was overrun amid protests over the execution of a prominent Shiite cleric by the Saudi government.
This time, U.S. and Saudi officials said, Iran was motivated to strike a deal as a currency crisis grips the country, roiling an economy already battered by U.S. sanctions over its nuclear program and the aftermath of months of protests against the clerical regime's rule.
The rapidly deteriorating economy has threatened the country's celebrations of the Persian New Year, Nowruz, on March 21. But the Iranian currency, the rial, rose more than 10% to 450,000 rials to the U.S. dollar on Saturday following Friday's agreement to restore diplomatic relations with Saudi Arabia.
Iranian officials say they expect economic benefits from a rapprochement with Saudi Arabia at a time of extreme political and financial isolation.
The Islamic Republic has launched a military alliance with Russia, but Moscow has proved to be of little immediate help economically. Russia's use of Iran's drones to attack Ukraine, and Tehran's brutal crackdown on protesters last year, have diminished hopes of reviving a deal to lift U.S. sanctions in exchange for limits on Iran's nuclear program.
The deal with Saudi Arabia is "a tactical move by Iran, under immense international isolation and internal economic near-collapse," said Mostafa Pakzad, an Iranian adviser to foreign companies operating in his country.
China is the biggest importer of Iranian oil and has significant economic leverage there. Before Friday's announcement, China allowed Iran to tap parts of funds in Chinese banks—which total $20 billion—that were frozen when the U.S. left the nuclear deal and reimposed sanctions in 2018, Iran's Mehr semiofficial news agency reported.
At the December gathering at a regal convention center in Riyadh, leaders from the six-country Gulf Cooperation Council welcomed Mr. Xi's proposal to hold a summit and lessen tension with Iran.
Saudi officials are hopeful that China can use its economic ties to influence Iran's behavior, something the U.S. has struggled to achieve through sanctions, negotiations or threat of military action. But they and other Gulf Arab officials have expressed skepticism in private that China, whose activities in the Middle East have mostly been limited to deepening economic ties, would succeed in navigating one of the thorniest rivalries in the world.
A few days after the Riyadh summit, the people familiar with the talks said, Chinese officials shared their plans with Iran, where officials were upset about Beijing signing on to a joint statement in Riyadh that advocated for Iran to give up possession of disputed Gulf islands. Iran said it would move ahead with China-brokered talks with Riyadh if Beijing toned down the language it used in the statement, the people said.
By late January, Saudi Foreign Minister Prince Faisal bin Farhan said in Davos, Switzerland, that Riyadh has "reached out [to Iran] and we are trying to find a path to dialogue." He didn't mention China's role in the talks.
Then Iran dispatched its top nuclear negotiator, Ali Bagheri Kani, to Beijing to hash out the details. He demanded that China play a bigger role in Tehran's nuclear talks with world powers, provide investments and support for Iran's struggling currency, according to Gulf officials. In exchange, Iran agreed not to set any preconditions on entering talks with Saudi Arabia to restore relations.
The restoration of ties finally came together last week in secret talks in Beijing, where in a sign of China's growing influence, all parties agreed not to use English in the negotiations, with speeches and documents conducted in Arabic, Farsi or Mandarin, according to people familiar with the talks.
Ali Shamkhani, a former defense minister who has chaired Iran's national security council, represented Tehran, signaling support from Supreme Leader Ali Khamenei. The Saudis sent their national security adviser Mosaid al-Aiban, a Harvard-educated lawyer who has had the trust of successive Saudi kings and handled some of the kingdom's most sensitive issues over the past quarter century.
The agreement gives Saudi Arabia and Iran two months to hammer out details before reopening embassies. The Saudi and Iranian foreign ministers are supposed to then meet to seal the deal. The GCC summit with Iran in China would then take place sometime after that, said the people
China's diplomacy built on years of efforts by Iraq to mediate between the Iranians and Saudis.
After drone and missile attacks on Saudi oil sites in 2019 that Riyadh and Washington blamed on Iran, the Saudis sent Iran a request to de-escalate via then-Iraqi Prime Minister Adel Abdul Mahdi, Iranian and Iraqi diplomats said. Gen. Qassem Soleimani, Iran's powerful military commander, traveled to Baghdad in January 2020 to receive the message but was killed in a U.S. drone strike before meeting Mr. Abdul Mahdi, said the Iranian and Iraqi diplomats said.
In 2021, Iran and Saudi Arabia came close to re-establishing ties after months of mediation by Baghdad. Then, the Saudis felt they had extracted an acknowledgment from Iran that it had overstepped in 2016 by permitting mob attacks on the Saudi embassy, according to people familiar with the talks. The two sides sent technical delegations to study reopening embassies, but progress halted after elections changed the Iraqi government and protests erupted in Iran last year.
(WSJ)