'They Have to Balance': New Iraqi Leader Tilts the Scales Toward U.S.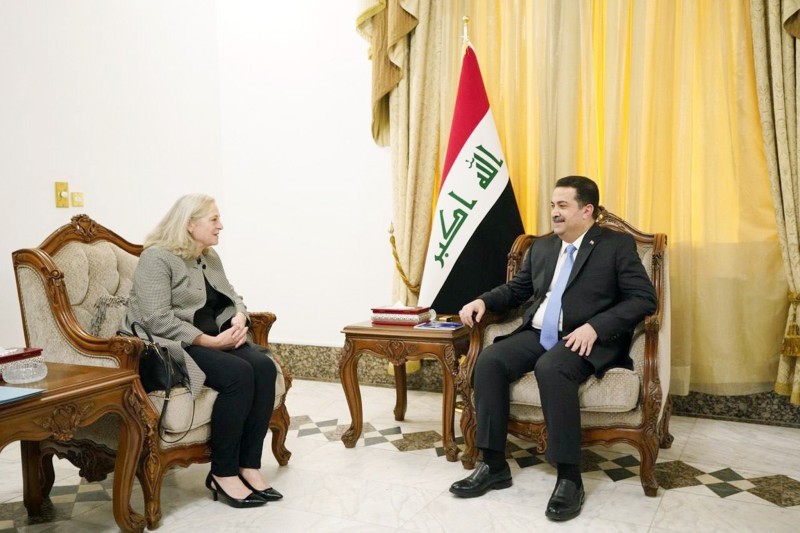 2023-01-25T17:08:44+00:00
Shafaq News/ Just three years ago, Iraq was on the brink of expelling U.S. troops that had helped drive the Islamic State out of the country. In January 2020, days after a monthslong military tit-for-tat between the United States and Iran had culminated in the U.S. assassination of a notorious Iranian military commander and a retaliatory ballistic missile attack on U.S. troops in Iraq, the Iraqi parliament, with the backing of the then-caretaker prime minister, took a symbolic vote to kick out foreign forces.
The scene in Baghdad, according to former U.S. officials, was a state of near-pandemonium, with Iran-backed Hezbollah operatives whipping votes in a flurry of calls just as U.S. lawmakers would on Capitol Hill—only in this case, with much more serious carrots and sticks attached.
"You had Kataib Hezbollah guys texting and calling the cellphones of sitting members of the Council of Representatives, threatening them and/or bribing them if they didn't vote in support," said Jonathan Lord, a former U.S. defense official and congressional aide who is now the director of the Middle East security program at the Center for a New American Security (CNAS), a Washington-based think tank. "There was an immense amount of coercion to get that vote across the finish line."
But the U.S. presence that was hanging by a thread in pre-pandemic Iraq, at the tenuous invite of the Baghdad government, now appears to be there to stay—indefinitely. That's after freshly inaugurated Prime Minister Mohammed al-Sudani, in his first interview with Western media last week, told the Wall Street Journal that he wants the 2,000 U.S. forces in the country, who are there training Iraqi troops to fight the Islamic State, to keep doing their work for the foreseeable future.
"We think that we need the foreign forces," Sudani told the Journal. "Elimination of ISIS needs some more time."
Though Sudani's public support for the U.S. mission—which has grown increasingly limited since Iraq declared the Islamic State's physical caliphate defeated in late 2017 and combat troops were drawn down—seems like an abrupt turn of the tide in Baghdad, it reflects a steady movement toward Washington in recent years.
Former U.S. officials told Foreign Policy that Iraqi prime ministers have expressed emphatic support for the U.S. military mission behind closed doors, dating back to Adil Abdul-Mahdi, who was at the helm during the back-and-forth between U.S. forces and Iran-backed militias that culminated in a U.S. drone strike that killed Iranian Quds Force commander Qassem Suleimani and an ensuing Iranian ballistic missile strike hit Iraqi bases housing U.S. troops in January 2020.
"Every time the door shut, it was: 'We support you 100 percent, we want American troops here, both to ensure the enduring to defeat of ISIS but also to counter Iranian influence,'" said a former senior Trump administration official, who spoke to Foreign Policy on condition of anonymity to speak candidly about closed-door talks. "But then when the doors open, there's a modification to those things, right? Because they have to deal with their own history."
The move comes as the U.S. Defense Department has ramped up the tempo of kill-or-capture raids against top Islamic State operatives in Syria, as the Wall Street Journal reported in December. The United States has been increasingly concerned about radicalism seeping out of the war-torn country and into other vulnerable countries, as the Islamic State metastasized from Syria into Iraq in 2014. Sudani told the Journal that he was especially concerned about the possibility of the terrorist group penetrating back into Iraq through its cells in Syria. The group still has fortifications in western Anbar province, has shown signs of strength in the north, and has claimed responsibility for recent bombings near Baghdad.
Though he faces pressure from Shiite hard-liners, such as supporters of cleric Moqtada al-Sadr, an erstwhile American foe during the 2003 U.S. invasion, Sudani, who was endorsed by pro-Iranian factions in Iraq's parliament known as the Coordination Framework, has also begun to use elite counterterrorism forces to crack down on currency smuggling into Iran, another move likely to please policymakers back in Washington, and welcomed U.S. President Joe Biden's Middle East czar to Baghdad in the days after his news-breaking comments on the presence of U.S. forces.
"They have to balance, but they also need the continued support of the United States," the former senior Trump administration official said. "For the most part, we're helpers there. We're not trying to manipulate their political system or have differing allegiances of their militias and military. We're essentially just there to make them more capable so the common enemy of ISIS doesn't return."
The possibility of more U.S. aid and trade dollars entering the country, and a more harmonious relationship akin to Washington's ties to the Gulf states, has also been a major motivator in turning the relationship around. But even as Sudani's statement appears to leave the U.S. military mission, which has been undermined by tenuous politics only made worse by the assassination of Suleimani, in its best situation in years, experts worry that the lack of attention to the U.S.-Iraq relationship within the Biden administration is leaving the Pentagon ill-prepared to take advantage of the moment.
That could be changing. The Journal reported that Sudani plans to send a delegation to Washington in February in an effort to pave the way for a meeting with Biden later this year. In the wake of Sudani's comments, a militia calling itself the International Resistance Faction claimed responsibility for a roadside bomb attack on a U.S. convoy traveling near Baghdad.
"[Sudani's] statement was controversial. It's already drawing a lot of gnashing of teeth in the political space in Iraq," said Lord of CNAS. "I think the larger problem for Centcom is that there is seemingly absolutely no planning or vision about what the future of the U.S.-Iraq relationship looks like or should look like."