CIA complained US was blindsided by Saudi outreach to Syria and Iran: Report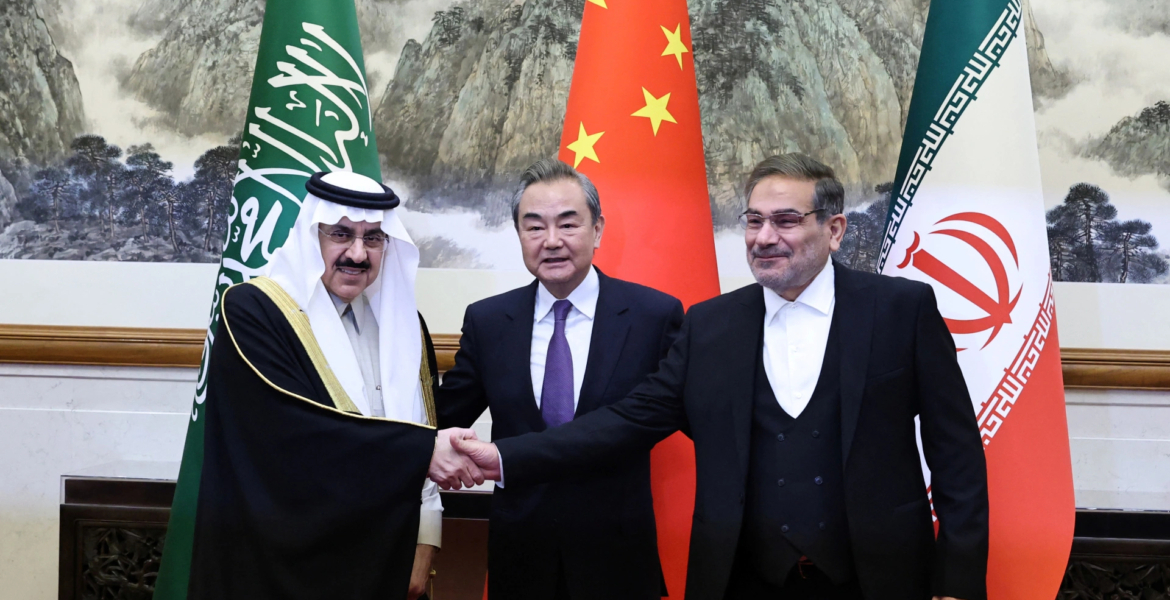 2023-04-07T15:53:42+00:00
Shafaq News / CIA director Bill Burns told Saudi Arabia's Crown Prince Mohammed Bin Salman that the US feels "blindsided" by Riyadh's moves to restore ties with Iran and Syria as part of the kingdom's increasingly independent foreign policy streak.
Burns travelled to Saudi Arabia at an undisclosed time this week to discuss intelligence cooperation with the Saudi Arabians. During the meeting, he expressed Washington's frustration at being left out of regional developments, according to the Wall Street Journal.
The visit, first reported by the Washington Post, follows a series of surprise diplomatic breakthroughs by Riyadh that have left the US on the sidelines, fanning talk of the US's waning influence in the region.
Last month, Saudi Arabia agreed to re-establish ties with Iran, in a deal brokered by Washington's arch-rival, China.
The announcement was initially greeted with skepticism in Washington. A former senior US official speaking to Middle East Eye when the news broke cast doubt on the validity of the reports while an acting US official sought to downplay the breakthrough, explaining that the US would wait to see its impact.
By all accounts, Riyadh and Tehran appear serious about moving the relationship forward. According to the WSJ, Iranian President Ebrahim Raisi has accepted a Saudi invitation to visit the kingdom, although no date has been set.
On Thursday, the countries' top diplomats met in Beijing where they agreed to restore flights, bilateral visits for private sector delegations, and facilitate visas for citizens. They also said they would start the process of reopening their embassies and consulates.
Burns' comments challenge the US's official line that Saudi Arabia kept it informed of its talks with Iran to restore diplomatic relations.
"The Saudis did keep us informed about these talks that they were having, just as we keep them informed on our engagements," White House spokesman John Kirby said last month.
US officials have been quick to point out that they publicly supported dialogue between Iran and Saudi Arabia long before Beijing brokered the rapprochement.
Timothy Lenderking, the US special envoy to Yemen, told MEE last year on the sidelines of the UN General Assembly that the US was "encouraging" talks between the two foes, particularly if it could address Saudi Arabia's security concerns in Yemen, where Iran has backed Houthi fighters.
It is more difficult, however, for the US to position itself as a winner from Saudi Arabia's moves to reestablish ties with Syrian President Bashar al-Assad, who is backed by Russia and Iran. The US says it is opposed to normalisation and successive administrations have imposed crushing sanctions on Damascus.
But Riyadh appears to be moving full-steam ahead to bring Damascus in from the cold.
The kingdom plans to invite Assad to an Arab League summit it is hosting in May. Saudi Foreign Minister Prince Faisal bin Farhan is expected to travel to Damascus in the coming weeks to personally deliver a formal invitation to Assad, according to Reuters.
Burns has earned a reputation as the White House's "back-channel" emissary for sensitive foreign policy missions.
He travelled to Russia late last year in a failed bid to warn President Vladimir Putin against invading Ukraine. He also visited Saudi Arabia ahead of President Biden's July visit to the country, in a bid to repair frayed ties.
His visit also comes on the back of Saudi Arabia's surprise decision on Sunday to implement an oil production cut that sent crude prices skyrocketing. Saudi's support for a cut in October last year was slammed by the Biden administration as aligning with Russia amid the war in Ukraine.
But the kingdom is brushing off US complaints. Saudi officials have gone on the offensive, slamming energy transition goals - mainly supported in the West - as unrealistic.
Energy Minister Prince Abdulaziz bin Salman has offered some of the sharpest criticism: "We keep hearing you 'are with us or against us'. Is there any room for 'we are with the people of Saudi Arabia?'" he said after the Opec+ production cut in October.
(Middle East Eye)