Turkish oil energy minister arrives in Erbil to discuss oil exports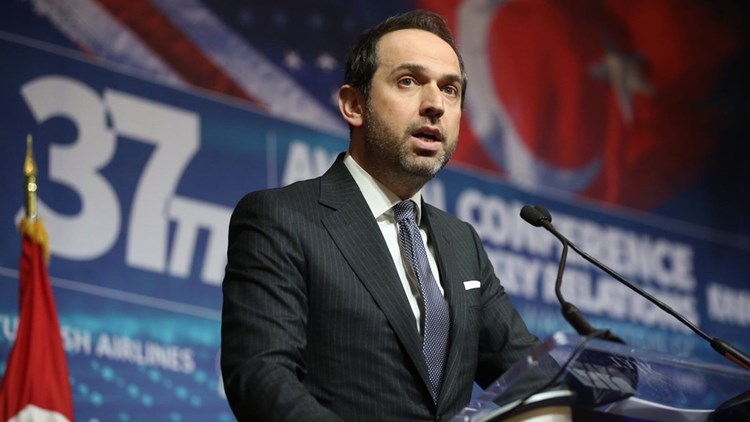 2023-08-24T08:24:32+00:00
Shafaq News/ Turkey's Minister of Energy and Natural Resources, Alparslan Bayraktar, arrived on Thursday in Erbil, the Kurdistan Region of Iraq's capital.
He was received by the Minister of Natural Resources of the Kurdistan Region, Kamal Muhammad Salih, and other regional officials at Erbil International Airport.
Bayraktar's visit is in connection with a meeting between the Turkish Foreign Minister, Hakan Fidan, who arrived in Erbil at midnight to meet President Nechirvan Barzani and PM Masrour Barzani. The discussions are expected to address bilateral relations and the potential resumption of the Region's oil exports via the Ceyhan port.
Fidan held talks in Baghdad with Iraqi officials, including PM Mohamed S. Al-Sudani, Parliament Speaker Mohamad Al-Halboosi, and Foreign Minister Fuad Hussein.
Notably, Iraq's oil minister, Hayan Abdel-Ghani, visited the Turkish capital, Ankara, earlier this week to discuss several issues, including the possibility of resuming oil exports through the Ceyhan oil terminal.
Turkey ceased the flow of oil through the pipeline on March 25, following an arbitration ruling by the International Chamber of Commerce (ICC) that ordered Turkey to pay $1.5 billion in damages to Baghdad for unauthorized oil exports facilitated by the Kurdistan Regional Government (KRG) between 2014 and 2018.
While there has not been an immediate agreement to restart northern Iraqi oil exports, Iraq's oil minister and the Turkish officials agreed to hold further discussions.
The halting of oil exports through Ceyhan has significantly impacted Iraqi Kurdistan. The Kurdistan Regional Government (KRG) relies on oil exports for about 90% of its revenue, so the loss of this revenue has been a significant blow.
The KRG has been trying to find alternative ways to export its oil, but it has not been easy. The Turkish government has refused to allow the KRG to export oil through its territory without the approval of the Iraqi government.
The KRG has been forced to cut spending on essential services like healthcare and education, the economy has slowed down, and KRG has also been unable to pay its debts, which has put it in a difficult financial position.
The halting of oil exports has also had a political impact. Its relations with the Iraqi government have deteriorated. The KRG has accused the Iraqi government of trying to weaken its economy. The Iraqi government has denied these accusations, but the situation remains tense.