Nechirvan Barzani meets US special envoy to Syria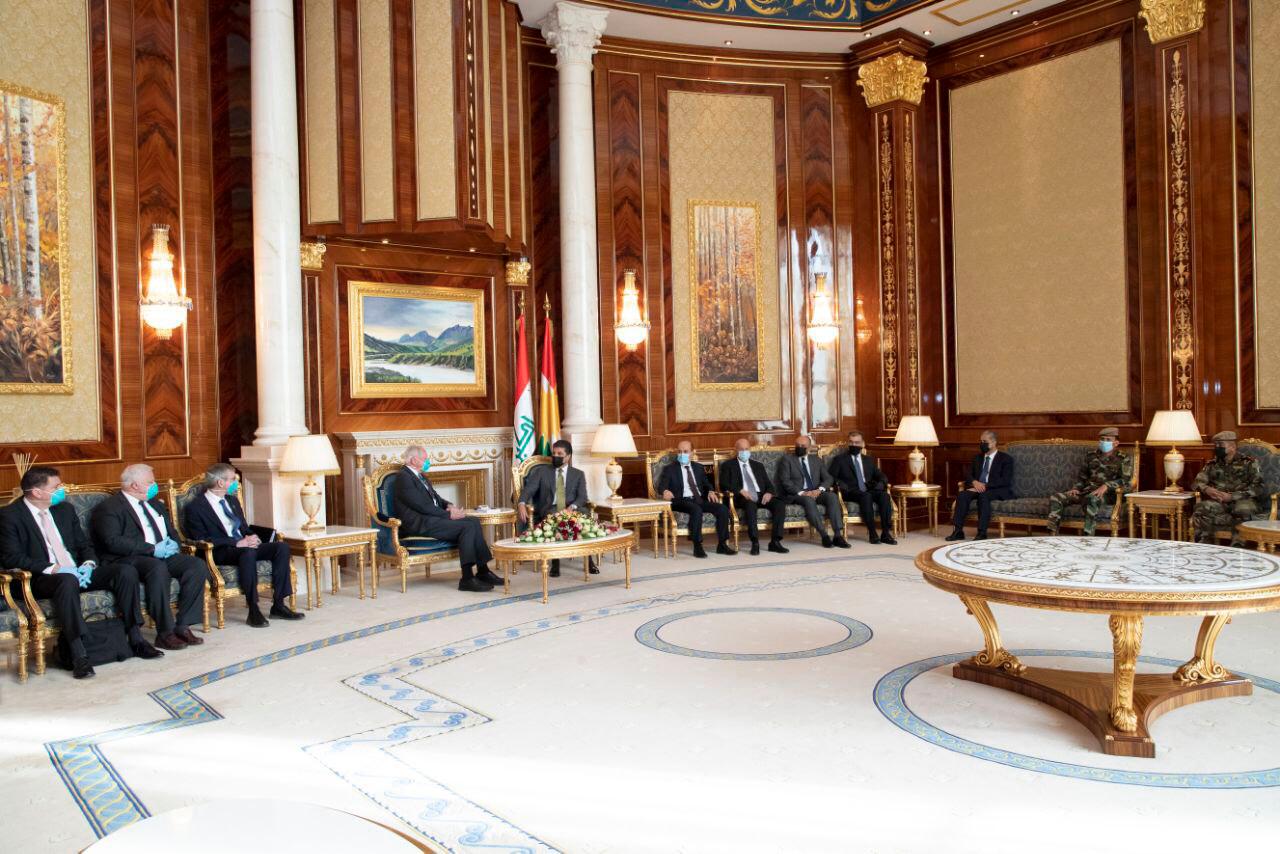 2020-09-22T08:24:10+00:00
Shafaq News / The President of Kurdistan, Nechirvan Barzani stressed on Tuesday the need for the US-coalition to keep supporting Kurdistan and Iraq to ensure the end of ISIS.
A statement issued by the Kurdish presidency stated that, "the President met today in presence of the Minister of Peshmerga Affairs, the Chief of Staff of the Peshmerga, and the official of the External Relations Department of the Kurdistan Region, with the US special envoy to Syria James Jeffrey and his accompanying delegation".
The statement added, "discussions were held about the latest developments in Syria, the tasks of the US- coalition, confronting the terrorist activities in Syria and Iraq, the situation of the Kurds and Kurdish parties in Syria ."
It emphasized that Jeffrey affirmed that USA and the international coalition will continue to support the Kurds and their allies to confront terrorism, eliminate ISIS completely, as well as support the Kurdistan Region and Iraq in this field, and provide the necessary assistance to the Peshmerga and Iraqi forces.
Jeffrey expressed the United States' support for the ongoing dialogue between the Kurdish parties in Syria in order to address their differences, referring to the positive role played by Nechirvan Barzani for uniting them and helping them to solve these differences and problems, according to the statement.
For his part, the President of the Kurdistan Region expressed his thanks to the United States and the international coalition for continuous cooperation, stressing the necessity of the international coalition continuing to support Iraq and its allies in the region to ensure that ISIS is completely eliminated.
The Coronavirus epidemic, the Erbil-Baghdad relations, the Kurdish file in Syria, the situation in the region in addition to other issues of common interest were discussed between the two parties.