Kurdish President and German Foreign Minister Discuss Erbil-Baghdad Dialogue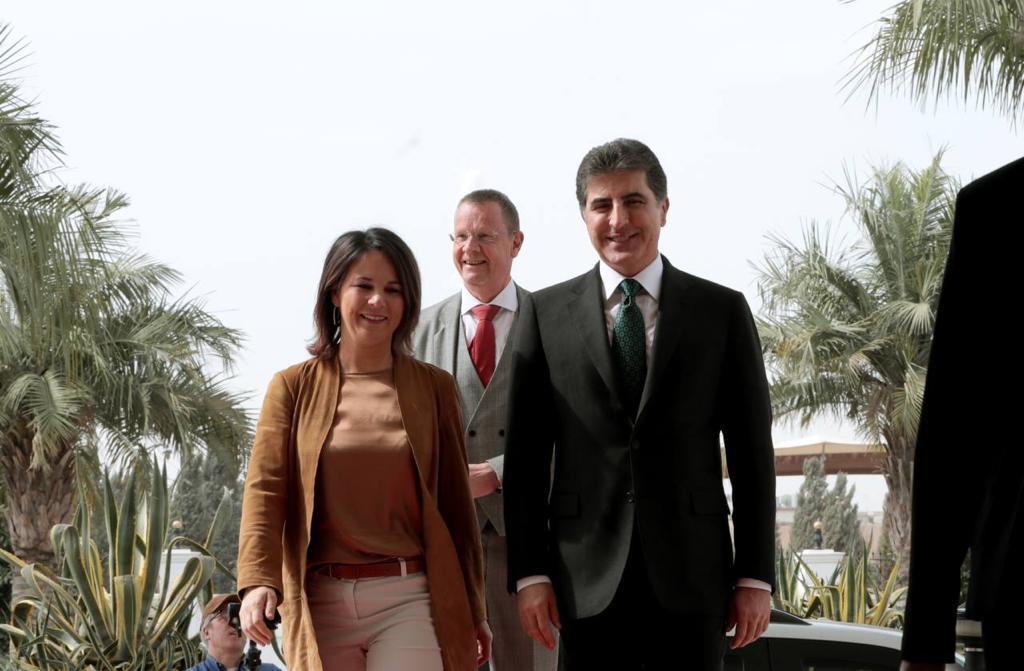 2023-03-08T11:20:17+00:00
Shafaq News / The President of the Kurdistan Region, Nechirvan Barzani, reported positive conditions for dialogue between Erbil and Baghdad to resolve the disputes and outstanding issues between the two sides.
This statement was made during his meeting with the German Foreign Minister, Annalena Baerbock, who is currently visiting the city of Erbil, according to a statement issued by the region's presidency.
The statement mentioned that during the meeting, President Barzani thanked Germany for its military, humanitarian, and political support to Iraq and the Kurdistan Region, and reiterated that the threat of terrorism remains ongoing, and therefore Iraq and the Kurdistan Region need to continue being supported by the United States and the international community.
For her part, Baerbock emphasized the importance Germany places on its relationship with Iraq and the Kurdistan Region and on establishing peace, political stability, and economic development in the region.
In this regard, she pointed out the importance of implementing the agreement between the Kurdistan Regional Government and the Iraqi Federal Government to normalize the situation in Sinjar, which will lead to the return of the displaced to their homes and the reconstruction of the area.
Another topic of discussion during the meeting was the relationship between Erbil and Baghdad, where President Barzani indicated the existence of positive conditions between the two sides to resolve disputes, as well as strong coordination between Iraqi forces and Peshmerga forces to confront ISIS.
The relationship between Iraq and the Kurdistan Region with neighboring countries, the situation of displaced persons and refugees in the region, the situation in Sinjar and the Yazidis in general, and some other issues of concern were also discussed during the meeting.