The Iraqi-Jordanian committee: 16 memorandums of understanding were concluded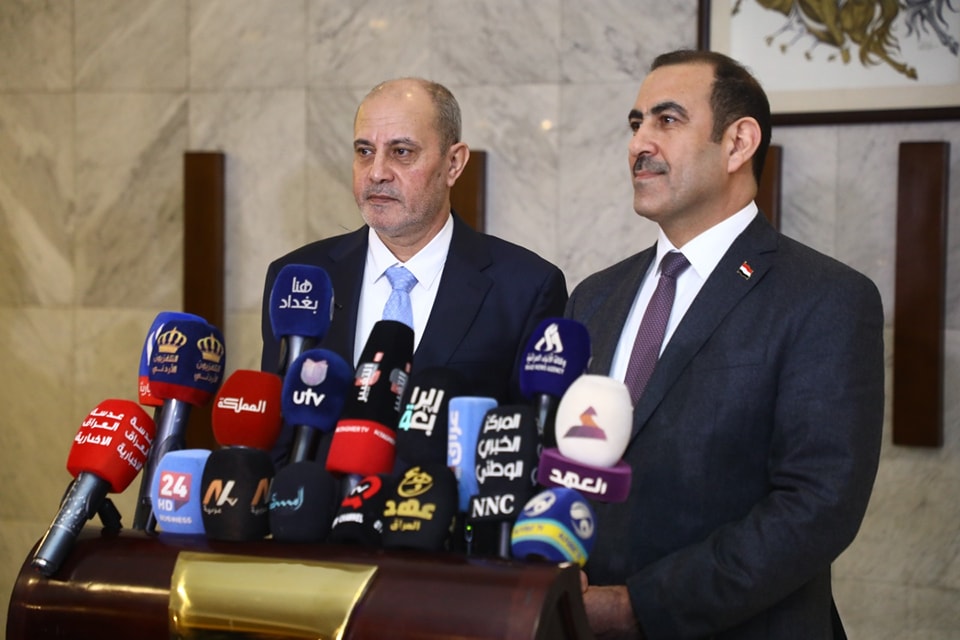 2023-02-09T14:33:00.000000Z
Shafaq News/ On Thursday, the Iraqi Minister of Industry and Minerals, Khaled Battal Al-Najm, revealed, in a press conference, that Baghdad and Jordan signed 16 memorandums of understanding in various fields for the "interests of the two peoples."
In the last two days, the Iraqi and Jordanian officials headed by Al-Najm and his Jordanian counterpart, Youssef Al-Shamali, held the 29th session of the Iraqi-Jordanian committee.
Officials and representatives from all sectors of the two countries attended the meetings.
The committee discussed the "cooperation programs and agreements in the economic, commercial, investment, health, energy, education, electricity, water and culture fields. In addition to the Industrial and Trading City project.
In turn, the Jordanian Minister affirmed that the relations with Iraq are "strategic," expressing Jordan's desire to continue these "historical ties."
Attendees of the Iraqi-Jordanian business conference held in Baghdad stressed that the essential files between the two countries were reviving working on food security, oil pipelines, and electric power linkage.
It is worth noting that Iraq has been working over the last few years on many files with Jordan; the foremost is the grid connection to fulfilling the country's need for electricity and the pipeline-building project to link Basra and Aqaba.
Last month, In a joint press conference with his Jordanian counterpart, Ahmed Al-Safadi, the Iraqi parliament speaker, Muhamed Al-Halboosi, revealed that the pipeline-building project to link Basra and Aqaba would start soon, noting that Iraq is responsible for funding the project from oil revenues.
Baghdad-Amman ties also meet with Cairo as the three are in a "tripartite alliance" to cooperate in politics, economy, security, and counter-terrorism.