Baghdad, Ankara hold talks on development road project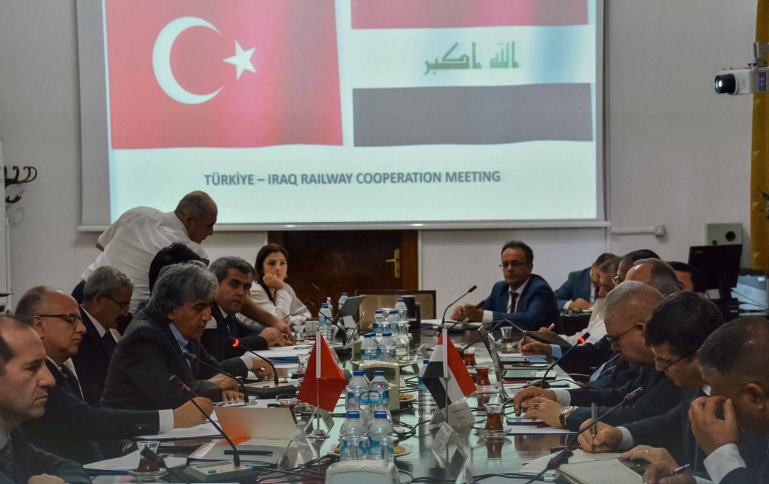 2023-08-20T16:14:09+00:00
Shafaq News / The Iraqi Ministry of Transportation announced on Sunday that it had conducted "significant" discussions with its Turkish counterpart regarding the Development Road project. During the talks, both sides delved into the importance, magnitude, and sustainability of the project.
In a statement, the Ministry revealed that these discussions would pave the way for anticipated bilateral agreements, overseen by Prime Minister Mohammed Shia Al-Sudani.
The statement explained that a technical Iraqi delegation from the Ministry of Transportation, led by the Director-General of the General Company for Railways, Yunus Al-Kaabi, along with a representative from an Italian consulting company, visited the Turkish capital, Ankara. They engaged in extensive and important discussions with officials from the Turkish Ministry of Transportation regarding the Development Road project. The project's economic significance for Iraq, Turkey, regional countries, and the world was also highlighted.
According to the statement, the meeting commenced with a welcoming address from the Director of the Turkish Railway Department, Hasan Pezük, to the Iraqi delegation. He then outlined the extensive lengths of railway lines in Turkey, expressing his department's commitment to enhancing rail transport operations with Iraq and globally.
The Turkish official emphasized his government's prioritization of the Development Road project, offering comprehensive support encompassing construction, training, systems, and more in the railway sector.
The statement continued that the Iraqi delegation underscored the significance, magnitude, and sustainability of the project, which is directly overseen by Al-Sudani. The delegation presented detailed studies related to the road.
Yunus Al-Kaabi, the Iraqi representative, elaborated on all the major project phases and provided a general technical overview, including capacity, operations, standards, specifications, the number and types of stations, and the signaling and communication system.
The statement highlighted that Al-Kaabi discussed the process of connecting the two countries, considering the elevated coordinates of this connection. He also presented the current elevation levels, topographic surveys, and soil investigations in the region.
The Iraqi delegation agreed with their Turkish counterparts to conduct a field visit to the connecting point between the two countries, located in Fishkhabour. Additionally, the delegation invited the Turkish side to share soil surveys and site-specific studies to align with the pace of the Iraqi side's work.
The statement continued that the Turkish side assured their swift actions to meet the specifications proposed by the Iraqi delegation. It also mentioned that the Iraqi delegation requested the Turkish side to design a railway network suitable for the model envisioned by the Iraqi government.
The Turkish side confirmed their commitment to extending a 133-kilometer railway line connecting the modern rail line from the Iraqi-Turkish border to Turkey's rail network, ensuring a link between the Grand Faw Port and Europe.
According to the statement, both sides agreed to establish a joint working mechanism in addition to exchanging expertise and focusing jointly on the border connection point in the town of Fishkhabour.