Turkey-Syria earthquake: Death toll rises over 27000, 85700 injured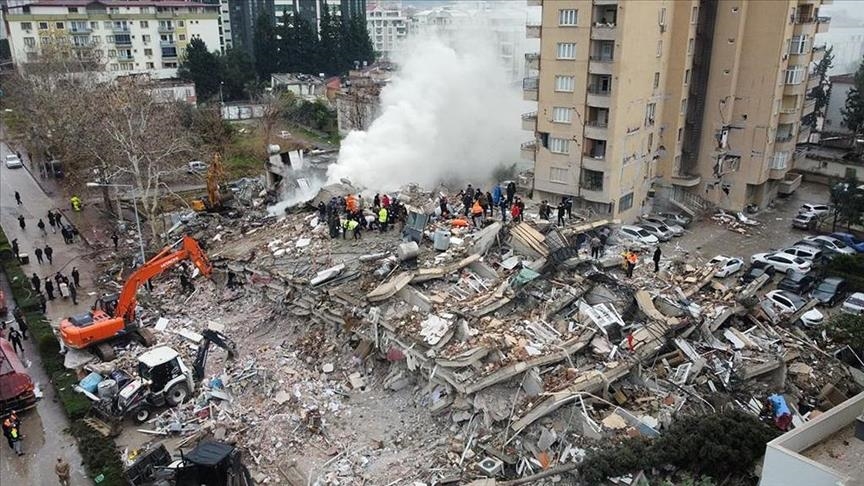 2023-02-11T15:13:54+00:00
Shafaq News/ Hopes of finding more survivors under the rubble are fading in Syria and Turkey, six days after the two powerful earthquakes that killed 27,037 people, and left 85,773 injured in one of the worst disasters in the region in a century.
In Turkey alone, the Turkish Disaster and Emergency Management Authority (AFAD) 21, on Saturday, February 11, the death toll from the earthquake had risen to 21,848 and the injured to 80,088.
The number of earthquake victims in Syria rose to 5,189 dead and 5,685 injured, amid difficulties in delivering aid, according to Syrian Observatory for Human Rights.
Meanwhile, 1,891 aftershocks have occurred since the first quake hit the country early Monday morning.
In a detailed outcome published by the Turkish "AFAD" in a statement, that 91,511 people were evacuated from the states affected by the earthquake.
It indicated that 31,254 Turkish search and rescue personnel and international teams are continuing their efforts in the earthquake zone.
The tragedy is multiplying in northern Syria, with weak capabilities, scarcity of resources, and the delay in the arrival of international aid necessary for search and rescue operations.
The Observatory expected the death toll to rise to more than 6,000 in Syria, noting that rescue crews were unable to reach many areas.
It pointed out that dozens of villages, including 21 villages within the regime's areas in the eastern countryside of Idlib, buried their victims without the arrival of rescue teams.
The Civil Defense in northern Syria (the White Helmets) reported that more than 375 buildings have completely collapsed, more than 1,200 buildings have partially collapsed, and thousands of other buildings have been cracked.
It is noteworthy that the two earthquakes that struck southern Turkey, on Monday, were of magnitudes of 7.7 and 7.6 on the Richter scale.
The earthquake in Kahramanmaras lasted about a minute, causing the destruction of hundreds of buildings and a huge fire, and video clips published on communication platforms documented the damage.
The earthquake also hit the states of Gaziantep, Adana, Malatya, Diyarbakir, Sanliurfa, and Osmaniye, and caused the collapse of hundreds of buildings and the siege of many under the rubble.
In Syria, the earthquake struck the governorates of Aleppo, Idlib, Latakia, and Hama, and was also felt by residents in Lebanon, Palestine, Greece, Cyprus, Armenia, Georgia, Iraq, and some areas in Egypt.