The Intercept: At least five members of Niger junta were trained by US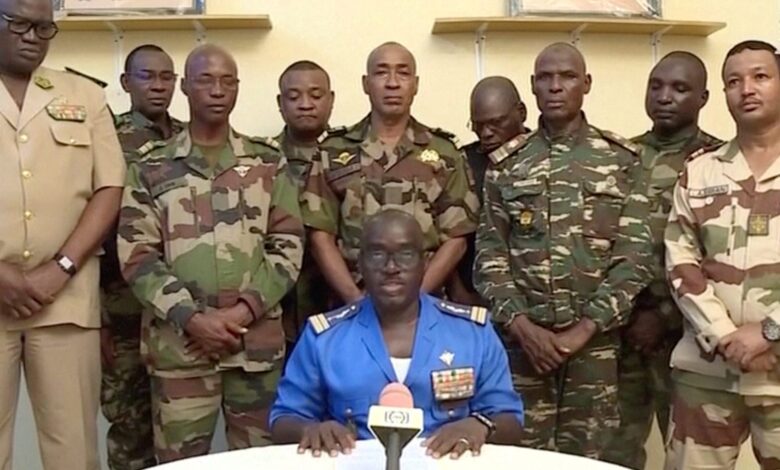 2023-08-11T15:36:42+00:00
Shafaq News / An investigative American website revealed on Friday that the US has trained at least five members of the military council that recently assumed power in Niger.
"The Intercept" reported that despite two weeks passing since the coup in Niger, the US Department of State has not provided a list of military personnel associated with the US involved in this uprising. However, an American official, who preferred anonymity, confirmed that the department has information that "five participants in the coup received American military training."
Two days ago, the US paused security assistance to the military-led government, while simultaneously looking to ramp up such aid to Burkina Faso, also ruled by a military officer who took power in a 2022 coup.
The military council took control of power in Niger on July 26, arresting the democratically elected president, Mohammed Bazoum. The commander of the presidential guard, General Abdourahamane Tchiani, declared himself the leader of the country.
Diplomatic cables released by WikiLeaks show that Lt. Cl. Abdourahmane Tchiani was selected to attend a yearlong International Counterterrorism Fellows Program at the National Defense University in Washington, D.C., from 2009 to 2010.
Over the weekend, another Nigerien mutineer, Gen. Mohamed Toumba, spoke before a cheering crowd at a 30,000-seat stadium named after Seyni Kountche, who led Niger's first coup d'état in 1974. "We are aware of their Machiavellian plan," he said of those "plotting subversion" against "the forward march of Niger."
Five years ago, Toumba addressed U.S. military officers and African dignitaries at the opening ceremony for Flintlock, U.S. Africa Command's largest annual special operations counterterrorism exercise.
The Intercept previously reported that Brig. Gen. Moussa Salaou Barmou, who headed Niger's Special Forces and now serves as chief of defense, also attended the National Defense University and trained at Fort Benning (now Fort Moore), Georgia.
On Monday, Barmou told Nuland that the junta would execute Bazoum if neighboring countries attempted a military intervention to restore his rule, a U.S. official told The Intercept.
"It's a disturbing trend, and a sign of how badly misallocated our national security spending is on the continent," wrote Sen. Chris Murphy, on X, formerly known as Twitter, drawing attention to The Intercept's coverage of the latest in a long parade of U.S.-trained military mutineers.
Two weeks after Niger's coup, the State Department has still not provided a list of the U.S.-connected mutineers, but a different U.S. official confirmed that there are "five people we've identified as having received [U.S. military] training." The official spoke on the condition of anonymity because they were not authorized to speak to the press.
"The U.S. is using security assistance and military training too broadly in sub-Saharan Africa. Doing so means you're putting the United States in a position where it's implicated in human rights abuses and the malign behavior of local security partners," said Elias Yousif, a research analyst with the Stimson Center's Conventional Defense Program. "Our experience in the Sahel should be especially cautionary. Over many years, we've seen a remarkable series of coups as well as deteriorating security with a rise in militancy, Islamist insurgencies, and criminal networks. I would be hard-pressed to point to a success that could justify continuing on the same path."
In March, U.S. Secretary of State Antony Blinken called Niger "a model of democracy," even though the latest State Department human rights report on the country refers to "significant human rights issues," including "extrajudicial killings by or on behalf of [the] government."
The State Department has offered similarly confused responses to The Intercept's questions about the coup in Niger. When asked about the training provided to members of the Nigerien junta, a nameless spokesperson replied by email: "This is an evolving situation and it is too soon to characterize the nature of ongoing developments."
That spokesperson also insisted that the "U.S. Government does not provide training to the Presidential Guard." A 2017 and 2018 joint State and Defense Department "Foreign Military Training Report," however, mentions "In Country Training" for members of Niger's presidential guard.
"We are pausing certain foreign assistance programs, and will continue to review our assistance as the situation evolves," Blinken posted on X last week, but also said in a press statement that the U.S. was continuing some "security operations" in Niger.
Following military coups, U.S. law generally restricts countries from receiving military aid. But The Intercept recently found security assistance still trickling into Mali, even though that country is ruled by a U.S.-trained officer who overthrew the previous government and its military has been implicated in the killing of civilians. Military officers twice overthrew the government of Burkina Faso in 2022, but the U.S. continues to provide training to Burkinabe forces according to Gen. Michael Langley, the chief of Africa Command, or AFRICOM. In April, less than a month after Langley informed members of the House Armed Services Committee about the continued support, the Burkinabe military reportedly massacred at least 156 civilians, including 45 children, in the village of Karma. Langley has also argued against constraints on U.S. military aid following coups.
On Monday, Nuland met with Barmou, warning the new defense chief of "the economic and other kinds of support that we will legally have to cut off if democracy is not restored." Barmou — who U.S. commandos previously helped set up specialized mobile units designed to target terrorist groups and criminal gangs — was apparently unmoved. "They are quite firm in their view on how they want to proceed," said Nuland, noting "It was difficult today, and I will be straight up about that."
Last year, The Intercept asked Nuland what the U.S. was doing to slow the parade of African officers overthrowing governments the U.S. trains them to protect. "Nick, that was a pretty loaded comment that you made," she replied. "Some folks involved in these coups have received some U.S. training, but far from all of them." Since then, five more U.S.-trained officers have been involved in coups. Reporting by The Intercept indicates that at least 14 U.S.-trained officers have taken part in coups in West Africa since 2008.