Saudi Arabia and Syria Resume Consular Services and Flights, Discuss Political Solution to Crisis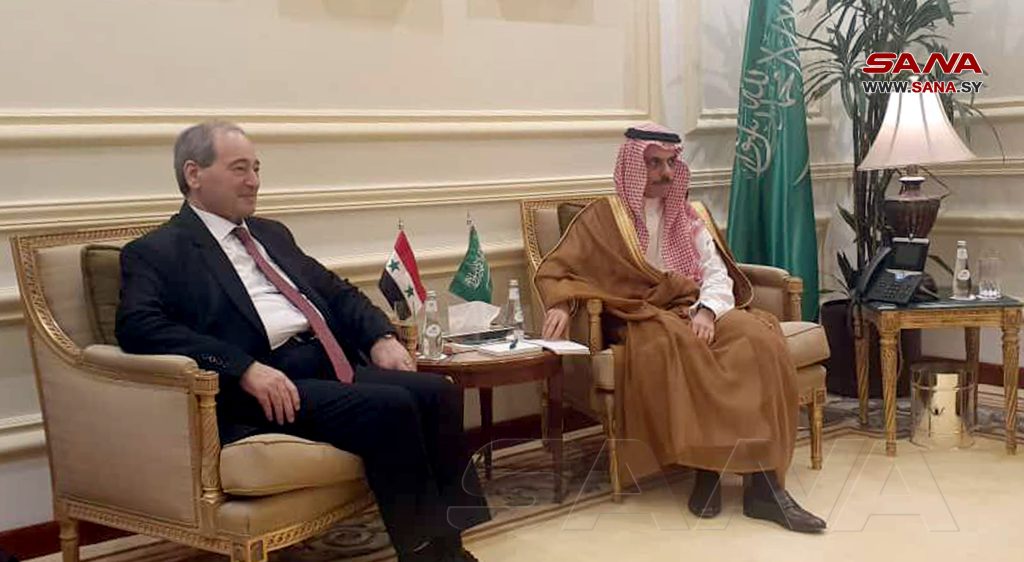 2023-04-13T06:30:45+00:00
Shafaq News/ Saudi Arabia and Syria have announced the resumption of consular services and flights between the two countries in a joint statement released on Wednesday.
The move came after a meeting between the Syrian Foreign Minister, Faisal Al-Miqdad, and his Saudi counterpart, Faisal bin Farhan Al Saud.
During the meeting, the two ministers discussed efforts to achieve a political solution to the ongoing crisis in Syria while ensuring the country's unity, security, stability, Arab identity, and territorial integrity. They also emphasized the need to address humanitarian difficulties, create conditions for the return of Syrian refugees and displaced persons, and stabilize the situation in the country.
In the joint statement, both countries highlighted the importance of enhancing security measures, combating terrorism in all forms and organizations, and working together to combat drug smuggling and trafficking. The statement also stressed the need to support Syrian state institutions to regain control over its territories and end the presence of armed militias and external interference in Syrian internal affairs.
The two sides also discussed necessary steps to achieve a comprehensive political settlement to the crisis in Syria that would end all its repercussions, achieve national reconciliation, and contribute to Syria's return to its Arab surroundings and the resumption of its natural role in the Arab world.
The two sides welcomed the start of procedures for resuming consular services and flights between the two countries.
The Syrian minister expressed Syria's appreciation for the efforts made by Riyadh to end the crisis in Syria and its provision of humanitarian and relief assistance to those affected by the earthquake that struck Syria.
The relationship between Riyadh and Damascus has been strained since the beginning of the Syrian civil war in 2011.
Saudi Arabia and other Gulf countries supported the opposition forces against Syrian President Bashar al-Assad's government.
With the support of Iran, Russia, and Hezbollah, the Syrian government accused Saudi Arabia of supporting extremist groups and accused some Gulf countries of attempting to overthrow the Syrian government. As a result, the two countries severed diplomatic relations in 2012, and the Saudi government expelled the Syrian ambassador from the country.
Since then, the relationship between the two countries has been strained, with Saudi Arabia continuing to support opposition groups and calling for President Assad's removal from power.
Recently, particularly after the Iranian-Saudi rapprochement, recent attempts have been made to restore diplomatic ties between Saudi Arabia and Syria. The Gulf Cooperation Council is set to discuss the issue of Syria's return to the Arab League in its upcoming meeting.