Israeli PM Netanyahu sees potential for historic peace accord with Saudi Arabia in meeting with US President Biden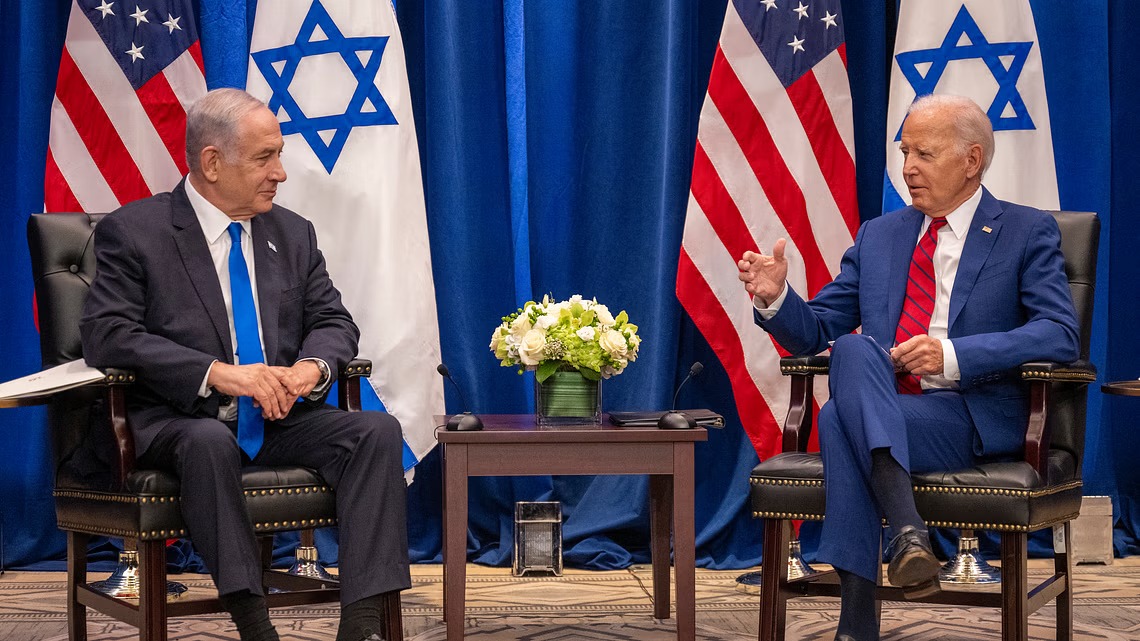 2023-09-20T16:50:34+00:00
Shafaq News/ Israeli Prime Minister Benjamin Netanyahu expressed optimism about the prospect of forging a historic peace agreement between Israel and Saudi Arabia during a meeting with US President Joe Biden on the sidelines of the UN General Assembly meetings in New York.
The meeting marked a significant moment, as it was the first encounter between the two leaders since Netanyahu returned to power in December. Both leaders wanted to improve their relationship, but President Biden stressed the importance of addressing their differences.
President Biden opened the meeting by emphasizing the strength of the US-Israeli relationship, describing it as "ironclad." However, he also highlighted the importance of upholding democratic values and the principles of checks and balances, which are integral to their partnership.
The central focus of the meeting was the US-led initiative to facilitate diplomatic relations between Israel and Saudi Arabia, a groundbreaking endeavor that involves intricate negotiations. These negotiations encompass US security guarantees, civilian nuclear assistance requested by Riyadh, and Israeli concessions to the Palestinians.
Prime Minister Netanyahu expressed his belief in the potential for forging a historic peace accord between Israel and Saudi Arabia under President Biden's leadership. He underscored that such an agreement could significantly contribute to resolving the Arab-Israeli conflict, fostering reconciliation between the "Islamic world and the Jewish state," and advancing genuine peace between Israel and the Palestinians.
Netanyahu conveyed his readiness to work together to make history. President Biden echoed his commitment to the normalization effort, emphasizing that such progress would have been unthinkable in the past.
Notably, Saudi Arabia and Israel have never established diplomatic relations historically, with Saudi Arabia staunchly supporting the Palestinian cause and opposing Israel's occupation of Palestinian territory. However, recent years have witnessed a growing thaw in relations driven by shared concerns and interests.
Key drivers of this rapprochement include mutual concerns about Iran's regional influence, a desire for collaboration in security and intelligence matters, and recognition of the potential benefits of economic cooperation.
While these developments are promising, several hurdles remain on the path toward full normalization. The Israeli-Palestinian conflict remains a significant obstacle, with Saudi Arabia insisting on a two-state solution before considering normalization. Additionally, managing domestic public opinion in Saudi Arabia, where a majority opposes normalization, presents a challenge for the Saudi government.