Iran's top security Chief: Tehran is committed to strengthening cooperation with its neighbors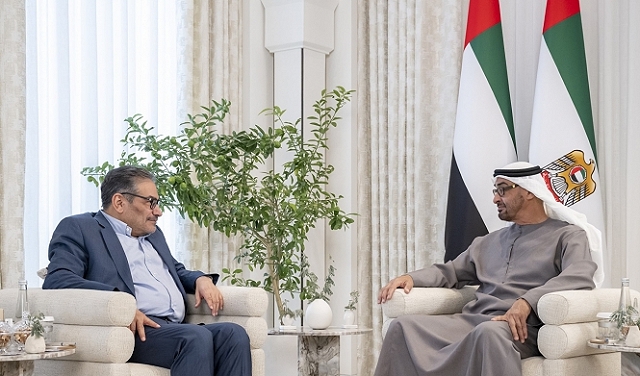 2023-03-16T20:48:04.000000Z
Shafaq News/ A top Iranian official, Ali Shamkhani, traveled to the United Arab Emirates on Thursday following Iran's recent agreement to restore diplomatic ties with Saudi Arabia.
Shamkhani, who heads Iran's Supreme National Security Council, said the visit marked the beginning of a new phase of political, economic, and security relations between the two nations, according to Iran's state-run IRNA news agency.
He was accompanied by other high-ranking officials, including the head of Iran's central bank.
The visit included meetings with the UAE's President, Sheikh Mohammed bin Zayed Al Nahyan, and other officials to discuss opportunities for enhancing cooperation between the two countries, as the UAE's official WAM news agency reported.
During his meeting with the Dubai ruler, Shamkhani highlighted the importance of expediting the implementation of previously reached agreements to overcome obstacles to bilateral cooperation.
He reiterated Iran's commitment to strengthening cooperation with its neighbors and emphasized the need for comprehensive interaction and collaboration to achieve peace, stability, and security in the region.
Shamkhani also praised the UAE's economic role in the region and stressed that developing broader relations with all neighboring countries is a top priority for Iran's 13th government.
Dubai's Emir has expressed his support for the recently reached Iran-Saudi agreement during a meeting with the Secretary of Iran's Supreme National Security Council.
Sheikh Mohammed bin Rashid Al Maktoum also pledged to facilitate the agreement's implementation, saying that improving bilateral and strategic relations with Iran has always been important to the United Arab Emirates.
The Emir also assured Shamkhani that the UAE would not allow any third country to use its soil against Iran, as such actions would only benefit the enemies of regional nations.
Additionally, he promised to resolve any problems faced by Iranian citizens and institutions based in Dubai.