Erdogan's geopolitical manoeuvres in Cyprus and Azerbaijan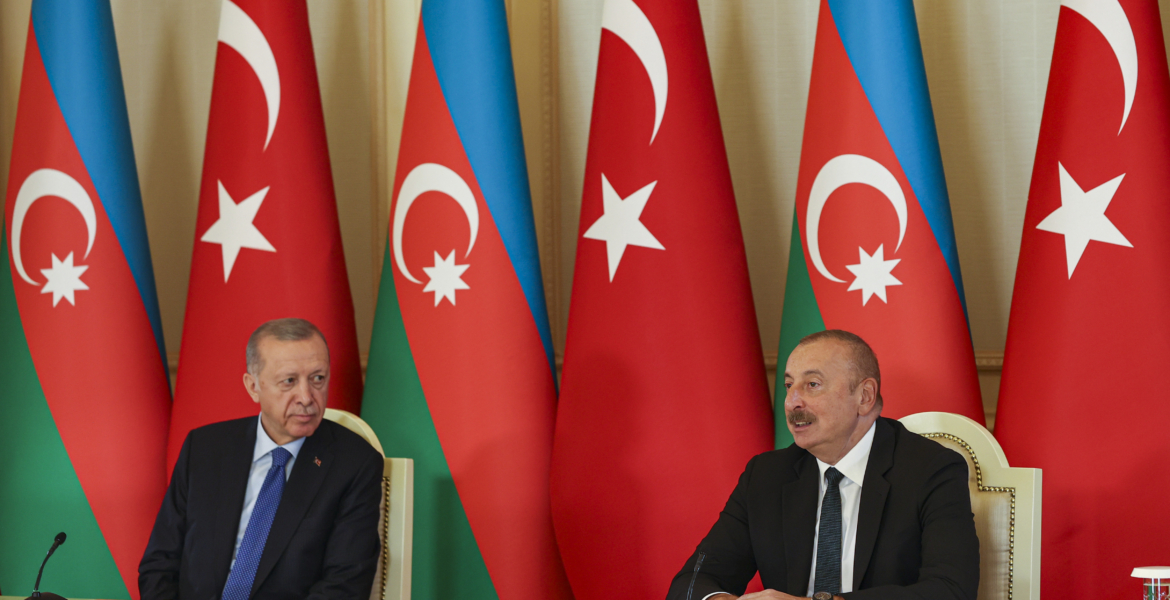 2023-06-26T13:54:05+00:00
Shafaq News/ Having won his most challenging re-election since rising to power two decades ago, Turkish President Recep Tayyip Erdogan chose the internationally unrecognised Turkish Republic of Cyprus (TRNC) and close ally Azerbaijan as his first two foreign destinations to visit.
Touring regions with ongoing territorial disputes may hint at Erdogan's foreign policy objectives as he enters his new five-year term as Turkey's leader.
Erdogan first visited the TRNC, a political entity established in 1983 that only Turkey recognises. Cyprus was divided in 1974 after Ankara militarily intervened in the island's northern third less than a week after a coup backed by Greece's junta.
The island has remained partitioned ever since, with Turkey retaining a 35,000-strong troop presence in the TRNC.
The Turkish president once again advocated a two-state solution. "If there is a return to the negotiation table, the way to do this is through recognition of the Turkish Republic of Northern Cyprus," he declared.
He also insisted that the "just demands" of the Turkish Cypriots are "clear and unequivocal" and that they "have never been and never will be a minority".
Erdogan then travelled to Azerbaijan, where he weighed in on another territorial dispute. In 2020, Azerbaijan captured large swathes of the Nagorno-Karabakh region from Armenian-backed forces in a war that killed 6,000 people. The enclave is internationally recognised as legally part of Azerbaijan, even though it has a sizable Armenian population and strong cultural and historical links to Armenia.
In a meeting with Azerbaijani President Ilham Aliyev, a close ally of Ankara, Erdogan expressed his willingness to open a Turkish consulate in the Nagorno-Karabakh city of Shusha, which has cultural significance for Azeris and Armenians alike.
"We are ready to open our consulate whenever you wish," he told Aliyev. "If we open a consulate in Shusha, this would be a message to the world and especially to Armenia."
Armenian Prime Minister Nikol Pashinyan's government recently expressed its willingness to relinquish its claims over Nagorno-Karabakh in return for guarantees that the rights of Armenians are protected. Pashinyan also called for full recognition of Armenia's territorial integrity from Azerbaijan within its Soviet-era boundaries.
Aside from seeking full sovereignty over Karabakh, Azerbaijan also demands the establishment of the so-called Zangezur corridor to directly link Azerbaijan's main territories with its western Nakhchivan exclave overland through Armenia's southernmost Syunik province.
While Turkey backs the project, Iran opposes it, fearing it could cut off its access to the South Caucasus and markedly reduce its influence there.
"President Erdogan's decision to visit Northern Cyprus and Azerbaijan should not be seen as surprising, given the historical context of such diplomatic visits, which has become a tradition," Dr Ali Bakir, a Non-resident Senior Fellow at the Atlantic Council's Scowcroft Middle East Security Initiative and Middle East Programs, told The New Arab.
"However, the timing of these visits, against the backdrop of current local and regional conditions, imbues them with significant meaning."
Bakir also noted that the rise of Turkish nationalism, reinforced by the election results, provides a "lens" through which one can interpret Erdogan's two visits. Erdogan aims to "leverage his particular momentum to advance certain strategic objectives," such as implementing the Zangezur corridor and determining the fate of the TRNC.
"Turkey has long been a staunch ally of Azerbaijan, playing a pivotal role in the last few years in assisting Baku in reclaiming territories that Armenia had occupied for nearly three decades," he said.
"However, progress on the Zangezur corridor has been hindered by Iranian intervention," Bakir added. "Iran's consistent efforts to destabilise peace initiatives between Armenia and Azerbaijan and to curb Turkey's expanding influence in the Caucasus and Central Asia are evident in this obstruction."
Bakir sees similarities between that and Turkey's diplomatic efforts to resolve the Cyprus dispute, notably the Annan Plan for reunifying the island, which he says was "undermined by the Cypriots" with the EU seemingly losing interest in reunifying the island or "acknowledging the rights" of the TRNC.
"In light of this stagnation, Erdogan might consider prompting Turkish states to recognise Northern Cyprus, particularly if no tangible progress is expected in the foreseeable future," he said.
The TRNC has previously stated it expects Azerbaijan to become the second country to officially recognise it.
Emil Avdaliani, a professor at European University and the Director of Middle East Studies at the Georgian think-tank Geocase, also doesn't see Erdogan's trip choices as surprising.
"Turkey will continue to maintain its close ties with Azerbaijan. The latter is seen as a vital component in Ankara's push for a bigger role in the region. Turkey is interested in quick resolution of the Karabakh problem and works closely with Azerbaijan," he told The New Arab.
"Yet much will depend on the internal situation in Armenia and how Russia sees the problem," he said. "It is, however, clear that Moscow is distracted from the South Caucasus with the war in Ukraine. Its power and readiness to act are constantly tested not only by Baku but also its ally Yerevan."
Erdogan is trying to fill this "emerging vacuum" through the ongoing rapprochement with Armenia and the further expansion of strategic ties with Azerbaijan.
"In a way, the present trends indicate that a final solution to the Karabakh problem is nearing, and it will be Turkey that would benefit most," Avdaliani said.
The Cyprus and European Union flags together
Nicholas Heras, senior director of strategy and innovation at the New Lines Institute, believes Erdogan is using these visits to send a "clear signal to the international community" that Turkey is the "decisive actor" in both disputed regions.
"However, there are limits to the extent that Turkey can advance its goals in Cyprus, namely because the Greek-majority region of Cyprus is part of the European Union," he told The New Arab.
While EU states like Italy will move toward Turkey's position on Cyprus for pragmatic reasons aimed at strengthening relations with Ankara, most European states oppose any unilateral "Turkish-imposed final status conditions on Cyprus," as does the United States. These factors limit Erdogan's "room for manoeuvre" on the issue.
"In Nagorno-Karabakh, the situation is much more in favour of Erdogan, especially because the Pashinyan-led government in Armenia views Turkey as the more amenable actor and needs Ankara to back Azerbaijan down from a state of constant conflict with Armenia," Heras said.
Armenia is also extremely vulnerable geopolitically. Its "nominal main patron," Russia, is "at best inattentive" to Yerevan and "at worst actively undermining" it in order to "appeal" to Baku.
"Azerbaijan is much more geopolitically important than Armenia owing to the energy resources that Baku commands, and Moscow is sending Yerevan the signals to back down to Baku," Heras said.
"Turkey, however, is much more concerned that Iran would become involved in Nagorno-Karabakh due to Iranian concerns over Azerbaijan's partnership with Israel and the threat of Baku supporting ethnic Azeri nationalist separatism movements in Iran's Azeri-majority regions," he added.
"Iran is an actor that can make things very difficult for Erdogan in Nagorno-Karabakh and elsewhere in the Greater Middle East, and for that reason, Ankara is trying to do anything it can to convince Tehran that Turkey's power over the Azeri-Armenian conflict is a fait accompli."