Diplomatic tensions escalate: India expels Canadian diplomat amid accusations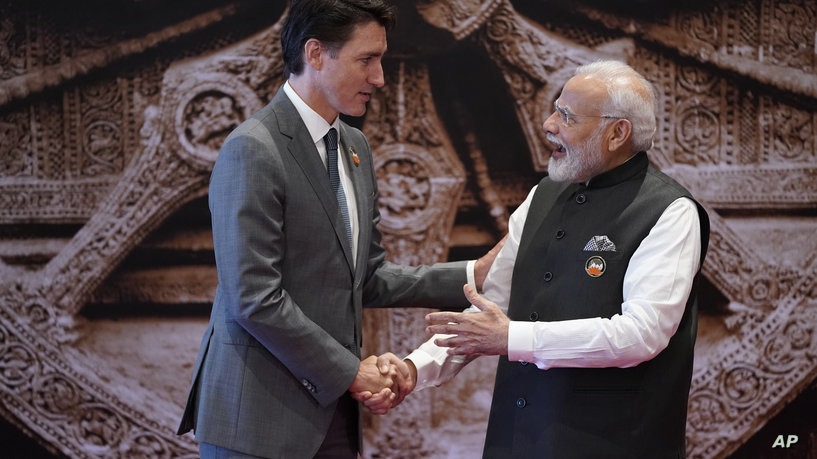 2023-09-19T10:10:26+00:00
Shafaq News / India announced on Tuesday that it has ordered a senior Canadian diplomat to leave the country, hours after Ottawa expelled an Indian diplomat in connection with the killing of a Sikh separatist near Vancouver.
The Indian Ministry of Foreign Affairs explained in a statement that New Delhi's decision reflects "growing concern over Canadian diplomats' interference in our internal affairs and their involvement in anti-Indian activities."
Canada's High Commissioner to India was summoned on Tuesday and informed of the Indian government's decision to expel a senior Canadian diplomat, according to the statement.
The Indian Ministry stated, "The concerned diplomat has been requested to leave India within the next five days."
This decision came just hours after Canada announced the expulsion of a senior Indian diplomat.
Canadian Prime Minister Justin Trudeau had indicated before Parliament on Monday that there are "credible sources pushing the suspicion that India may be responsible for the assassination of Hardeep Singh Nijjar," a Sikh leader with Canadian citizenship, in western Canada in June.
The Indian Ministry stated, "Allegations regarding the involvement of the Indian government in any violent act in Canada are absurd," adding, "We are a democratic country with a clear commitment to the rule of law."
The situation has escalated tensions between the two countries, and it remains to be seen how diplomatic relations will evolve in the aftermath of these expulsions.