Recriminations fly as PUK, KDP lawmakers engage in a brawl inside the parliament hall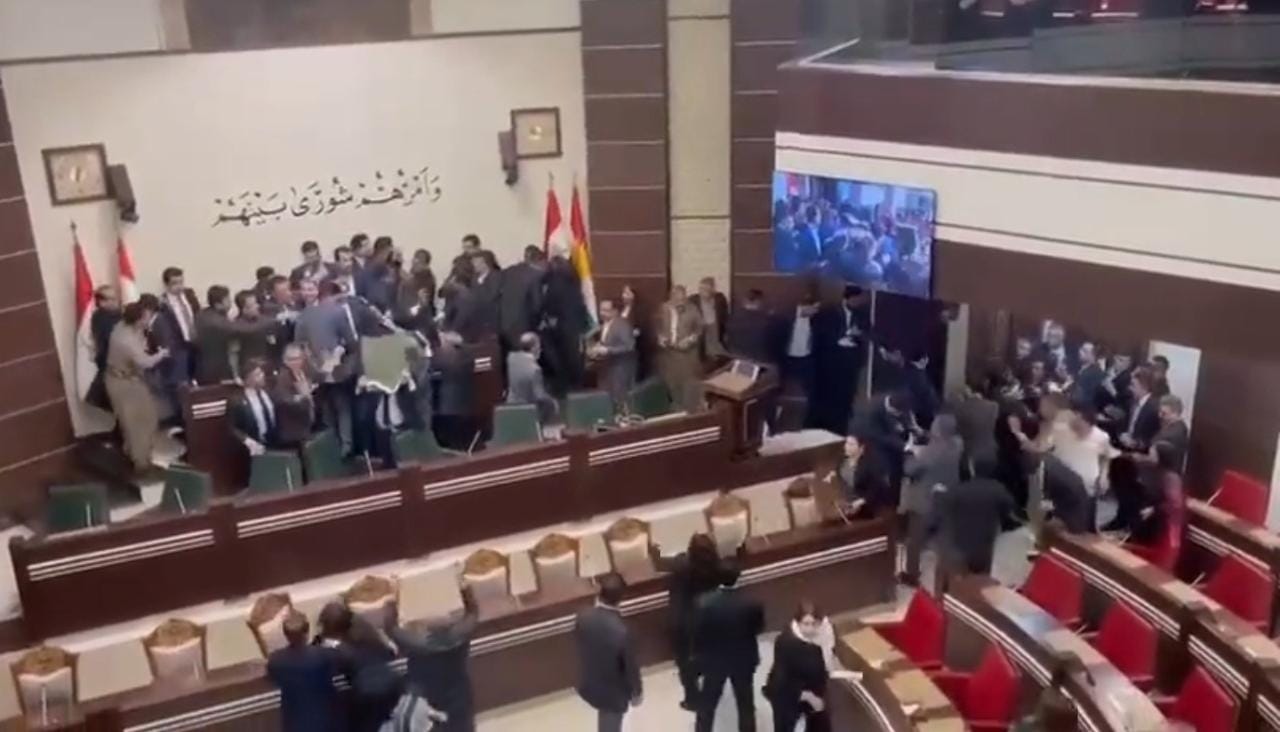 2023-05-22T11:24:36+00:00
Shafaq News/ Lawmakers engaged in physical scuffles inside the Kurdistan parliament during a session dedicated to discussing election reforms, including the reactivation of the region's Independent Election Commission, Rebwar Babakayi, a member of the Kurdistan Democratic Party (KDP) bloc said on Monday.
Babakayi conveyed his stringent disapproval of the behavior, which he unreservedly termed as "childish," demonstrated predominantly by the members of the rival Patriotic Union of Kurdistan (PUK).
The latter faction reciprocated these accusations with pointed criticism towards the KDP's alleged "distortion" of proceedings.
In an interview with Shafaq News Agency, Babakayi underscored that the resolution to reactivate the election commission was steered through by an overwhelming majority of attendees, a step he delineated as indispensable for upholding the timetable of the impending elections.
Countering the assertion promulgated by the PUK that the assembly was prematurely adjourned, the KDP lawmaker said the session was in perfect harmony with the parliamentary decorum and procedures.
Babakayi rebuffed insinuations suggesting the activation of the commission as a political maneuver advantageous to the KDP, positing it instead as a matter intrinsically linked to the welfare of the region's people.
"If we fail to reinstate the commission, we risk plunging into a constitutional void, a predicament we staunchly oppose," Babakayi added.
Expressing discontent with the antics of the PUK lawmakers, he said they failed to live up to the stature of their responsibility as representatives of the people, contending that" their ultimate goal was to hamper the vote for the Commission's reactivation."
"The power to defer sessions is vested in the parliament's presidium, an entity that encompasses the speaker, deputy speaker, and secretary, as opposed to the exclusive jurisdiction of the speaker," he continued.
Parliamentarian Karwan Gaznayi, a member of the PUK bloc, lamented over the disorder that unraveled during Monday's session
"The speaker exercised her exclusive privilege, terminating the session. This was met with resistance, a move devoid of any legal standing," he told Shafaq News Agency.
When asked about the upheaval that took place during the session, Gaznayi said it was to "hinder the distortion".
Earlier this Monday, post a brief suspension triggered by a physical altercation amongst the lawmakers, Kurdistan's legislative assembly resumed the session and voted in favor of activating the Independent Election Commission.
This resolution mustered the backing of 58 lawmakers, despite the simmering tensions and sporadic conflict that occurred during the session.