Leader, PM Barzani commemorate 77th anniversary of KDP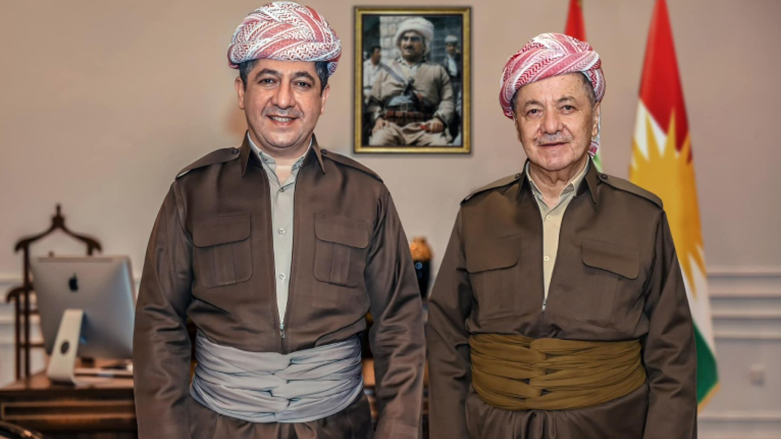 2023-08-16T09:23:46+00:00
Shafaq News / Kurdish leader Masoud Barzani extended his congratulations on the occasion of the 77th anniversary of the founding of the Kurdistan Democratic Party, which he heads.
In a message sent on this occasion, Barzani expressed his appreciation for the steadfastness of the Party's supporters, who have been the foundation of resistance, perseverance, and the strengthening of the Kurdish cause during challenging and decisive periods.
He added, "The Kurdistan Democratic Party, under the leadership of Barzani, in the past, present, and future, has been the hope of Kurdistan and its strong arm defending the legitimate cause of the Kurdish people."
For his part, the Prime Minister of the Kurdistan Region, Masrour Barzani, conveyed his congratulations and best wishes to the party and its leader, Kurdish leader Masoud Barzani, on this occasion.
Masrour Barzani stated in a post on his Facebook page, "The Kurdistan Democratic Party is the pillar of glorious revolutions and the achiever of great accomplishments. Its history is rich with meanings of pride, dignity, sovereignty, and leadership of the Peshmerga. It has dedicated its path and journey to defending the dignity of the people and the homeland, and to the glory and pride of Kurdistan."
He continued, "Since its inception, the KDP has not limited itself to a specific region within Kurdistan; it has gone far beyond that to become a Kurdish popular movement. It is a staunch defender of national achievements and the principles and values of freedom and democracy. It stands as a strong shield and protector of the spirit of coexistence in Kurdistan."
Masrour Barzani further elaborated, "The Democratic Party has taken on significant responsibilities. Through its struggle, Kurdish determination has grown stronger, and it continues to lead and guide the Kurdish people, steadfast in defending and safeguarding the constitutional entity of the region. This is all in the pursuit of advancing progress, prosperity, and development in Kurdistan."