Kurdistan's PM discusses cooperation prospects with Jordan, receives an invitation to visit Oman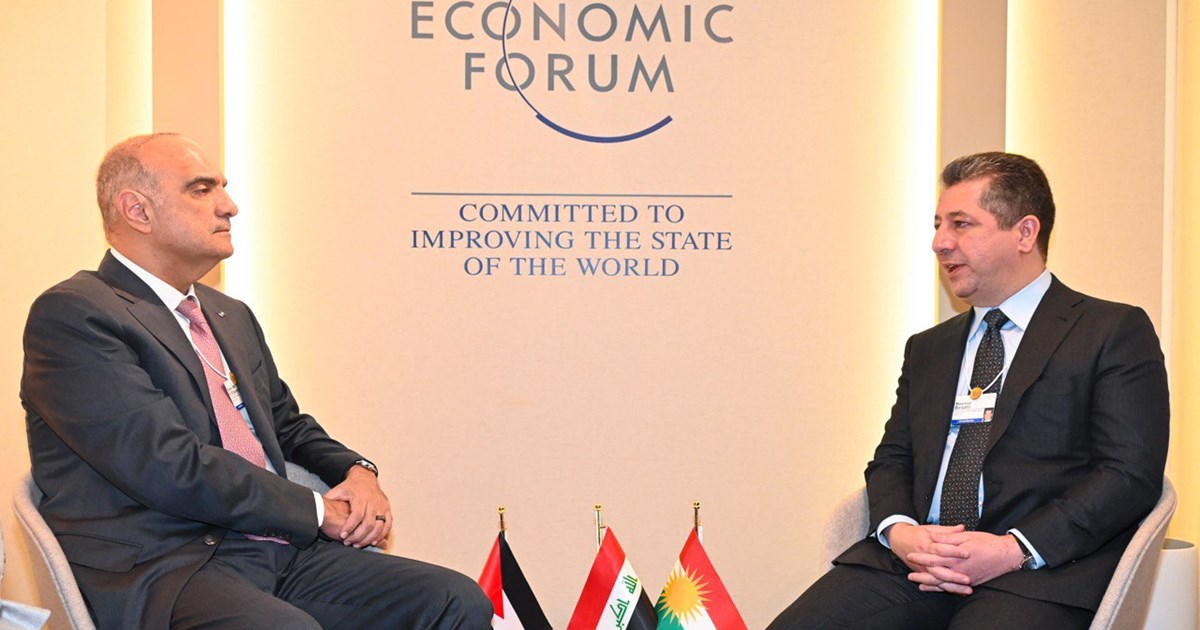 2023-01-18T14:09:21+00:00
Shafaq News/ The Prime Ministers of the Kurdistan region of Iraq, Masrour Barzani, and the Hashemite Kingdom of Jordan, Bishr al-Khasawneh, met on Wednesday on the sidelines of the World Economic Forum (WEF) taking place in Switzerland's Davos.
According to a readout by his bureau, Barzani discussed with al-Khasawneh "ways to enhance the friendly relations and historic ties between the Kurdistan region and the Hashemite Kingdom of Jordan."
"The Jordanian prime minister conveyed the greetings of King Abdullah and highlighted the special status his majesty and the Jordanian government give to the Kurdistan region and President Masoud Barzani," he added.
Prime Minister Barzani thanked Jordan for the support it provided to Erbil, particularly during the battle against ISIS, and King Abdullah's efforts to establish stability in Iraq and the Kurdistan region.
The meeting touched upon expanding the bilateral cooperation and coordination in the fields of industry, agriculture, and healthcare, the readout said.
Prime Minister Barzani also held a meeting with Oman's Minister of Economic Affairs, Said Mohammad al-Saqri, with whom he discussed cooperation prospects in agriculture and trade.
Minister al-Saqri handed Prime Minister Barzani an official invitation to visit Muscat, an official readout said.
Barzani on Monday embarked on a trip to Switzerland to attend a week-long annual international assembly of policy-makers, business leaders, politicians, and lobbyists in Davos.
More than 2700 figures have convened a "World Economic Forum" in the posh Swiss Alpine village to discuss solutions for multiple global crises.
This auspicious gathering includes 52 heads of state, leaders in business, finance, and culture, as well as humanitarians and members of civil society from 130 countries. More than 5,000 Swiss army soldiers will be on hand to guarantee security and ensure any protests do not get out of hand.
The theme of this year's meeting is cooperation in a fragmented world. After emerging from three years of pandemic isolation, delegates once again will be meeting in person.
Klaus Schwab, founder and executive chairman of the World Economic Forum, said this personal interaction creates the necessary level of trust to bring people together.
Dignitaries attending the meeting include German Chancellor Olaf Scholz, South Korean president Yoon Suk-yeol, and U.N. Secretary-General, Antonio Guterres. U.S. President Joe Biden did not come to Davos. However, U.S. Special Presidential Envoy for Climate, John Kerry, is present. Saudi Arabia dispatched a high-level delegation that includes the ministers of finance, foreign affairs, industry, and communications.