Al-Sudani expressed "strong desire" to address Baghdad-Erbil disputes: KRG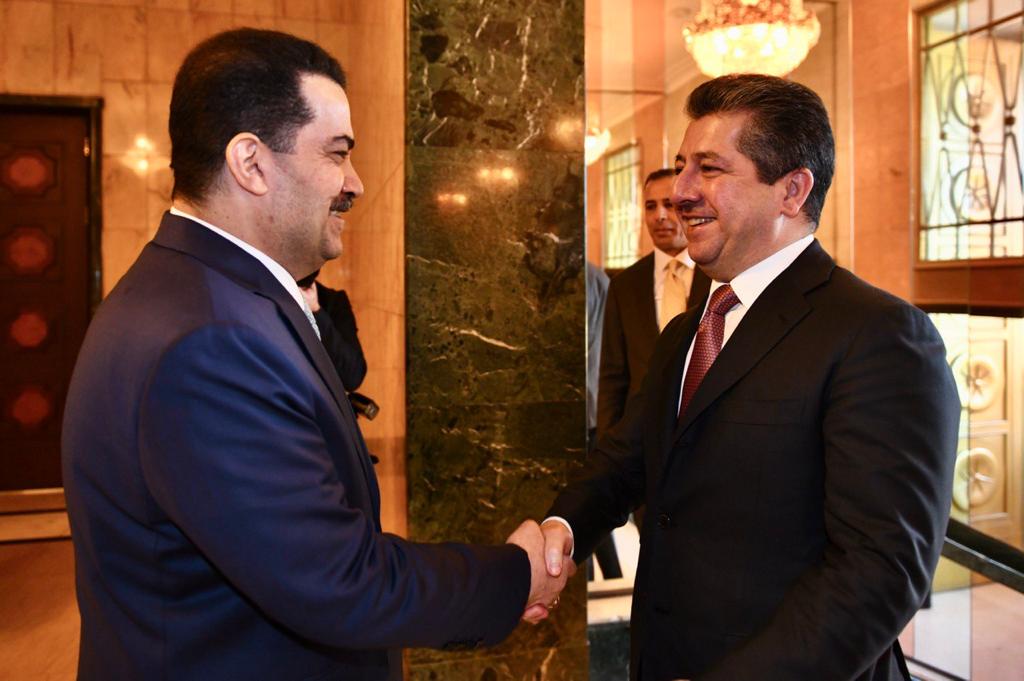 2023-01-11T15:07:27+00:00
Shafaq News/ Iraq's Prime Minister Mohammad Shia al-Sudani has expressed "strong desire" to address the contentious issues between Baghdad and Erbil, a readout by the Kurdistan Regional Government (KRG) said on Wednesday.
Al-Sudani received the prime minister of the Kurdistan region, Masrour Barzani, who arrived in the Iraqi capital, Baghdad, on the top of a high-level KRG delegation early on Wednesday.
Barzani and al-Sudani discussed the outstanding issues between the federal and regional governments. The talks, according to the readout, touched upon the 2023 budget bill, the hydrocarbons law, the disputed territories, and Peshmerga forces.
The duo discussed the 2023 budget and KRG's financial entitlements and share in it, the statement noted.
Al-Sudani said the new Iraqi government has a "strong desire" to address the unresolved points of contention between Erbil and Baghdad, the readout noted.
"If there is a will for a solution, there are many ways to resolve the issues, including the agreement the political parties coined to form the government," Barzani responded.
Barzani and al-Sudani attached importance to implementing Article 140 and the Sinjar agreement, and laid emphasis on the Peshmerga forces' rights as part of the Iraqi defense body, according to the press release.