Egyptian and Syrian Foreign Ministers Discuss Bilateral Relations and Syrian Crisis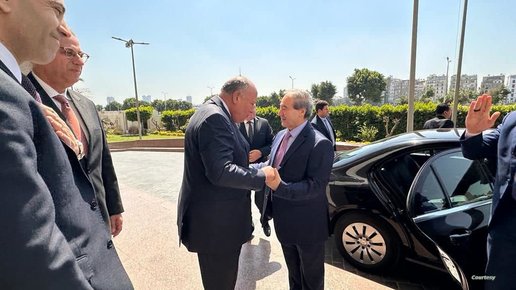 2023-04-01T19:14:05+00:00
Shafaq News/ Egyptian Foreign Minister Sameh Shoukry held talks on Saturday with his Syrian counterpart, Faisal Al-Miqdad, during his visit to Cairo, the first by a Syrian official at this level in more than a decade.
The two ministers discussed various aspects of bilateral relations and ways to advance and enhance them, in addition to several regional and international files of common concern.
The discussions included efforts to help the Syrian people restore their unity and sovereignty over their lands and achieve a comprehensive political settlement of the Syrian crisis.
Shoukry reiterated Egypt's support for the efforts of the UN Special Envoy to Syria. The two ministers agreed to intensify communication channels between the two countries at various levels during the next stage.
Unlike several Arab countries, Egypt kept its embassy open in Damascus throughout the conflict but reduced the level of diplomatic representation and the number of its mission.
The visit comes after Shoukry paid a visit to Syria on February 27, days after the earthquake that killed tens of thousands in Turkey and Syria.
The visit was followed by a call made by Egyptian President Abdel Fattah Al-Sisi to his Syrian counterpart, Bashar Al-Assad, which was the first between the two men since Al-Sisi assumed power in Egypt in 2014.
Following the outbreak of the conflict in Syria in 2011, several Arab countries, especially the Gulf countries, severed diplomatic relations with Syria and closed their embassies in Damascus.
The League of Arab States also suspended Syria's membership. However, analysts believe that Assad may find, in the broad solidarity with him following the earthquake, an "opportunity" to accelerate the normalization of his relations with his regional milieu, especially in the wake of the announcement by Iran, which supports Damascus, last month of the agreement to resume ties with Saudi Arabia after a seven-year rupture.