Yazidis plead with Canada not to repatriate ISIS members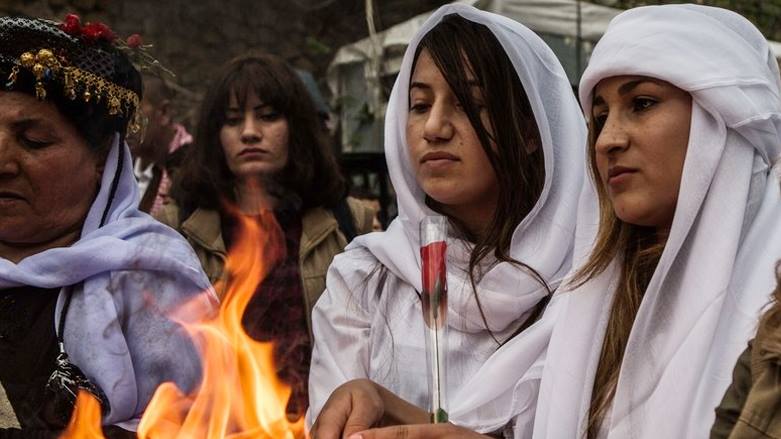 2023-01-30T18:45:38+00:00
Shafaq News / The looming return of alleged ISIS members to Canada has brought trauma, worry and fear to people who were invited to Canada as a safe haven after the terrorist group all but destroyed their ancient community in northern Iraq.
"When I first heard the news, I felt the strength leave my body," Huda Ilyas Alhamad told CBC News in her Winnipeg apartment. She is one of 1,200 survivors of the Yazidi genocide who were resettled in Canada; she spent years as a slave of ISIS members.
"I had to sit down right away. I was heartbroken and terrified at the same time because on one hand they had promised to protect us and bring us here and give us safety, and on the other hand they're offering that same entryway for these very people who raped and tortured us on a daily basis."
The Yazidis are members of an ancient Kurdish-speaking farming community in northern Iraq who practice their own monotheistic religion. They were victims of one of the worst atrocities of the 21st century at the hands of the Islamic fundamentalist terror group, which set out to eradicate the Yazidi people in a brutal campaign launched on August 3, 2014.
Earlier this month, the federal government agreed to repatriate 19 Canadian women and children from northeastern Syria, where they have been held in Kurdish-run detention camps for suspected ISIS members and their families.
Lawyers for the detainees say there is no proof tying them to ISIS but if the government does have evidence against them, it should bring a prosecution in a Canadian court.
That agreement was quickly followed a day later by an order from the Federal Court, instructing the government to also repatriate four men, currently held in Syrian prisons, accused of ISIS membership.
Jamileh Naso, president of the Canadian Yazidi Association, said Yazidis feel grateful to Canada. Many have settled in Winnipeg.
"Canada was one of the first countries to respond to the plight of the Yazidis," she said. "And they couldn't be any more happy or grateful that they would come to a country like Canada where they could feel safe and protected, in a country that stood for all these great values of freedom, of rights, of justice, of accountability and all these things the Yazidi community wanted to see."
Naso praised the work of Winnipeg's Jewish community to help reunify families and privately sponsor Yazidi refugees, but she said others in the city have helped as well.
"This has really been a grassroots local community effort to reunite these families and this is what Canada is about," she said.
The ISIS repatriation order, she said, has left Yazidi families feeling "heartbroken and betrayed."
"A lot of them just broke down into tears because they thought this news was completely unbelievable. It can't be true," she said.
"We have submitted applications for family reunification to reunite with our family members who were in ISIS captivity. And here they are bringing the perpetrators of these crimes of genocide to Canada. And they know in most cases that these folks will not face trial. The evidence is not here and the witnesses aren't here. They are giving a free pass for their part in genocide and terrorism.
"It's really disappointing, not just for those in the Yazidi community, but for those across Canada who believe in liberal values, and that we should be a country that's standing up for victims and survivors."
"Before ISIS arrived, we were very happy. We had 13 people in my family," Huda Alhamad told CBC News at her Winnipeg home. She was 17 years old in August, 2014, when ISIS attacked.
"It was always loud and noisy in the house, but I loved it. We would go to work, we would come home, we would have dinner as a family."
As ISIS closed in, Huda's family and thousands of others sought refuge on the slopes of the Yazidis' traditional refuge of Mount Sinjar. But they were captured, along with thousands of other Yazidi civilians. ISIS members then began to separate them by age and gender.
Huda said she believes the gunfire she heard as she was driven away after the initial separation of family members was the start of the massacre of older community members.
ISIS had different plans for different segments of the Yazidi population. The youngest boys were taken from their families to be converted to Islam and raised as jihadi fighters and suicide bombers. Thousands of older boys and men were murdered. Young women and girls, like Huda and her three sisters, were separated for sale to ISIS members as slaves.
(CBC news)