US authorities publish a phone call content between US president and King of Saudi Arabia on the eve of Kuwait Invasion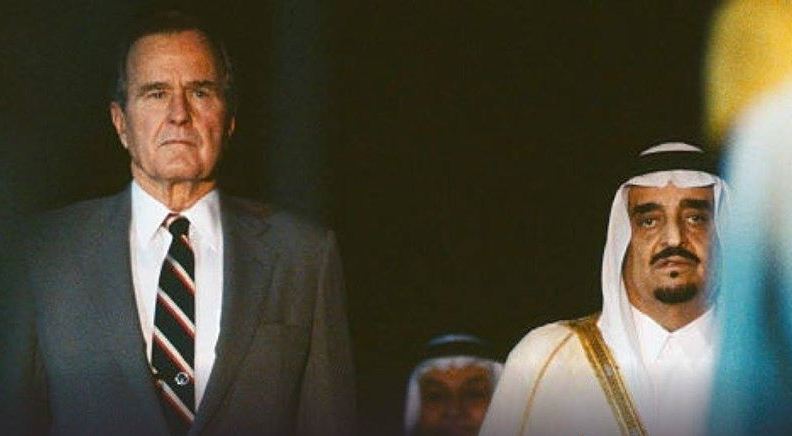 2020-08-04T10:48:12+00:00
Shafaq News / US authorities lifted the secrecy of the text of a phone call that took place between former US President George H.W Bush and the Saudi king at the time, Fahd bin Abdul Aziz, on the eve of the invasion of Kuwait.
During the call, King Fahd described Saddam Hussein, the former Iraqi regime's president, as "arrogant, and nothing will work with him except force".
The Saudi king also said that he had spoken by phone with Saddam earlier that day and reminded him that he had, "proposed at Baghdad summit a non-aggression pact between Arab states", commenting that Saddam was a liar and that he was firm with him in the call, stressing that, "he must withdraw from Kuwait now".
Bush told the Saudi king in the call that his government was preparing for "options at the diplomatic, military and economic levels…and we will study more diplomatic, economic and military options".
Bush also asked King Fahd to convey to the Prince of Kuwait, Jaber al-Ahmad al-Sabah that he, "deeply despised this atrocious brutal act against his country" and tell that US supports him.
The text of this phone call was among the documents of that era, which the US authorities lifted secrecy upon it over the past years. The Kuwaiti newspaper, Al-Anbaa, published a copy of it.
The President: Your Majesty, how are you?
King Fahd: I am sorry to be so late taking your call.
The President: That's OK. I wanted to tell you our thinking and more importantly hear your views regarding the terrible invasion.
King Fahd: First thank you for your interest in this most serious matter in the Middle East from a country that doesn't understand what it means to be a neighbour. It must be stopped soon in any way because it is a very serious principle when a country with arms attacks a small neighbor.
The President: Exactly.
King Fahd: This attack took place at 2:30 am Saudi time. As you know representatives from Iraq and Kuwait were here with me two days ago. I tried to reconcile matters, and both expressed willingness to do so. It was decided a delegation from Kuwait would go to Iraq and another session would be held in Kuwait so that an agreement could be reached. But unfortunately, although Saddam assured us he had no interest to attack Kuwait, the opposite happened.
The President: Exactly.
King Fahd: This is because he is conceited. He doesn't realize the implications of his actions are upsetting the world order. He seems to think only of himself. He is following Hitler in creating world problems with one difference: one was conceited, and one is both conceited and crazy. I believe nothing will work with Saddam but the use of force.
I talked to Saddam at 4 am local time and told him he was making a mistake; with what law or logic he is attacking a small country with military forces? I reminded him that he proposed at Baghdad summit a non-aggression pact between Arab states and non-interference in some of the internal affairs of some.
He is a liar.
My call with him today was firm and strong and I told him that he must withdraw from Kuwait now and we will not accept any system that represents Kuwaiti and Arab opinion.
Saddam told me that he had tried to reach an agreement with Kuwait, but Kuwait did not respond to it.
I told him that this is not an excuse. If Kuwait did not reply to him, he could have called us and tried to reach an agreement.
No excuse for using (that) in his speech.
For this reason, I say that he is arrogant, thinking that what he did will pass easily.
Then he told me, "Let me send you the vice president to meet with you tomorrow at 11 am Saudi time".
I told him if you realized your mistake and withdrew from Kuwait, I will meet with the Vice President.
He repeated if it is possible to meet with his representative tomorrow to find a solution.
I told him that he is responsible for the safety of people of Kuwait, Kuwaitis and others.
Mr. President, we will receive his representative tomorrow and talk to him briefly. Either the Iraqi forces withdraw smoothly or his representative must quickly return.
Saddam must withdraw his forces from Kuwait quickly. Otherwise, the only other solution is to use force.
Mr. President, this is a very serious matter, which involves a principle that cannot be accepted in any logic or ethics.
Mubarak called me about requesting an Arab summit.
I told him it was a good move. The Arab leaders must be convinced that what happened is very dangerous, and through Mubarak and me, we will work to hold a summit the day after tomorrow.
Saddam's representative will inform me tomorrow whether he will correct things and withdraw from Kuwait or not.
I will conduct any information from Saddam's representative to you.
Mr. President, Saddam cannot be tolerated.
I hope that things will be resolved peacefully; and if not, then we should teach Saddam a lesson that he will not forget.
I want to thank you and the American people, the Europeans and the world for your steadfast stance towards what Saddam did to realize his fatal mistake against Kuwait.
Let me also suggest preparedness, because we know what Saddam will do.
This information is for you, now you have any questions? Please ask as a friend and I will answer you as a friend.
The President: I have one question. Are the Kuwaiti leadership in Saudi Arabia, the Prince and the Crown Prince, safe and sound?
King Fahd: A large number of the ruling family are in Saudi Arabia is now safe and welcomed.
The President: Very well, we will make a joint statement with the Soviets condemning the Iraqi invasion when Baker arrives in Moscow soon to issue a strong and joint statement between us and the Soviets.
King Fahd: This is very good news.
The President: Our goal is consistent with their goal of driving Iraq out and restoring Kuwaiti sovereignty.
King Fahd: I told Saddam that we will not be deceived by this national government in Kuwait (the government that Saddam formed). We know that no one in Kuwait accepts removing the legitimate government, and if they bring leadership from Iraq to Kuwait, this will be completely unacceptable.
The President: It will be a complete fraud.
King Fahd: the truth of the situation will be revealed before tomorrow.
THE PRESIDENT: Thank you. Meanwhile, we are doing what I expressed, and in my government, we are preparing for options at the diplomatic, military and economic levels.
We will study more diplomatic, economic and military options.
We have implemented comprehensive economic sanctions, and we are currently studying other economic measures against Iraq per Chapter VII of the Charter of the United Nations.
Other measures will be taken into consideration to stop the possibility of exporting Iraqi oil, either by closing oil pipelines or through the blockade imposed on Iraq.
It is clear that we need more talks to discuss a range of other options, but I hope that the Arab efforts will result in the withdrawal and return of legitimacy to Kuwait.
King Fahd: We also hope that the Arab efforts will succeed, but all the measures that have been taken and the options I mentioned will be useful in deterring Saddam.
The President: In Saudi Arabia, we believe that TACAIR should be studied and that we need to discuss with you because your security is important to us and we want to do anything possible to prevent Saddam from taking any hostile measures against the Kingdom, and to work with you to take any necessary steps to compel Saddam to withdraw from Kuwait.
King Fahd: Thank you for what you said about Saudi Arabia, based on what will happen tomorrow, I will be happy to discuss this with you.
The President: You know that we are moving aircraft carriers near the Gulf, we believe that collective Arab action will be beneficial, we salute your efforts, and we hope for success tomorrow, I look forward to hearing from you about the results.
King Fahd: Thank you for your interest, and thank you in the name of the Saudi people.
The President: I have another request. I hope that you convey my greetings to Prince Sheikh Jaber, and tell him that I despise deeply this terrible atrocity against his country and inform him that we support him. I value your role in informing him.
King Fahd: I will inform the Prince.
The President: Thank you, God bless you and the Saudi people. Good luck with your heroic efforts towards peace.
King Fahd: Thank you, thank you for the friendship between the Kingdom and the United States for more than 60 years.