Water returns to the Sea of Najaf, Report shows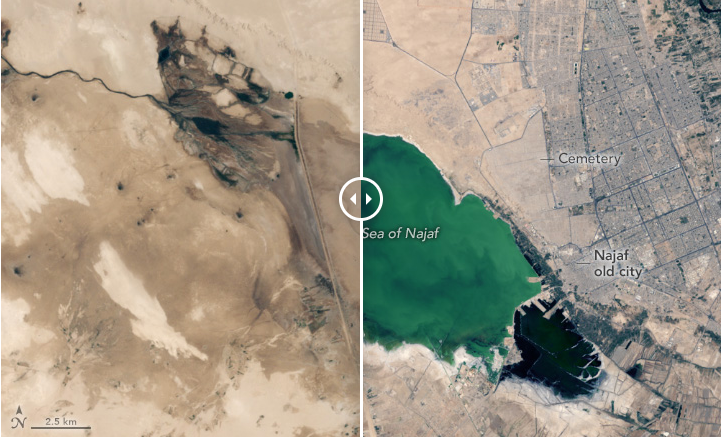 2023-11-20T17:56:51+00:00
Shafaq News / The city of Najaf lies just west of the Euphrates River in southern Iraq about 160 kilometers (100 miles) south of Baghdad. The name—meaning "hill" in Arabic—refers to the ancient city's location on a ridge overlooking a valley with marsh and wetlands to its west.
The wetlands feature prominently in this image (right), acquired on August 7, 2023, by the OLI (Operational Land Imager) on Landsat 8. Occasional rainfall, along with water from irrigation canals, natural springs, urban areas, and artesian wells, pools in the basin to form the water body, known as Bahr Al-Najaf (Sea of Najaf).
Two roads cross Bahr Al-Najaf. A band of farmland lines the edge of the lake. Najaf's old city, renowned for being the burial place of Muhammad's son-in-law and cousin, lies to the east and is among the holiest cities in Shia Islam. Due to its historical and religious significance, millions of people have been buried in the city's Wadi-al-Salam (Valley of Peace) cemetery, one of the largest cemeteries in the world.
The other image (left), acquired by the ETM+ (Enhanced Thematic Mapper Plus) sensor on Landsat 7, shows the same area on May 20, 2003. Note the significant expansion of neighborhoods to the north of the city along the Euphrates River. The city's population increased by roughly 360,000 people over the two-decade period, according to population data from the United Nations. The cemetery, located northwest of the old city, is also growing rapidly. About 50,000 people are interred each year, Al Jazeera reported.
While Bahr Al-Najaf has reportedly gone dry in the past, wet weather in recent years has helped it grow to its largest size in decades. Researchers from the University of Baghdad think that the expansion of a fish farming on the western side of the lake may be helping boost the water levels. Many of these farms installed artesian wells when they were established in the mid-2010s, and Bahr Al-Najaf has grown significantly since then, according to a 2022 analysis.
(NASA Earth Observatory)