Iraqi forces start a military operation, specifically in borders with Syria and Jordan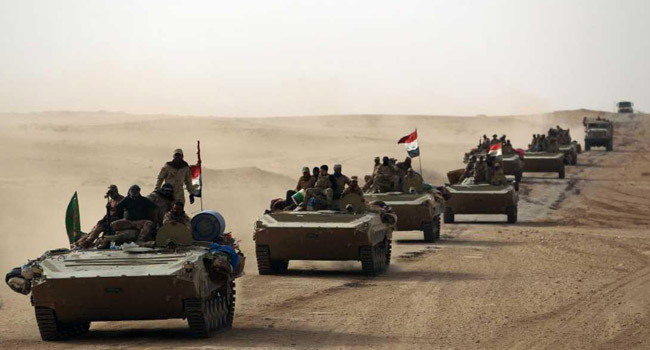 2020-02-12T08:25:41+00:00
Shafaq News / The Iraqi armed forces began a large-scale military operation on Wednesday in Al-Anbar Governorate, west of the country till the borders with Syria and Jordan.
Deputy Commander of Joint Operations Lieutenant General Abdul Amir Rashid Yarallah said in a statement today, "The operations of Iraq Heroes / the first phase began today at dawn today, February 12, 2020, with the participation of the Land Forces Command, Baghdad Operations Command, the Border Guard Command and the brigades linked to it."
He explained that this process comes to inspect Anbar province and the surrounding areas in the Iraqi-Syrian-Jordanian borders and the separating borders with the leadership of the Middle Euphrates and Baghdad operations to eliminate the remnants of terrorism and impose security and enhance stability through five axes as follows:
1- The first axis: the Border Guard Command and Anbar Operations Command
2- The second axis: the leadership of Anbar operations
3- The third axis: A- Jazeera Operations Command
4- Fourth axis: The middle Euphrates operations
5- Fifth axis: Baghdad Operations Command
The Lieutenant added that " a special forces is taking place with the full support of the Iraqi air force and army aviation, and for the first time, the Air Defense Command is involved in opening advanced missile batteries in the area of ​​operations to protect Iraqi airspace.
Yarallah said, "The operations of the heroes of Iraq / the first stage target an area of ​​(26238 km2) and with the participation of all security and intelligence agencies."
The military commander noted that "Iraqi Air Force F-16s and other types will fly at low altitudes, according to operational requirements."