Gunshots and gas bombs directed against protesters in Baghdad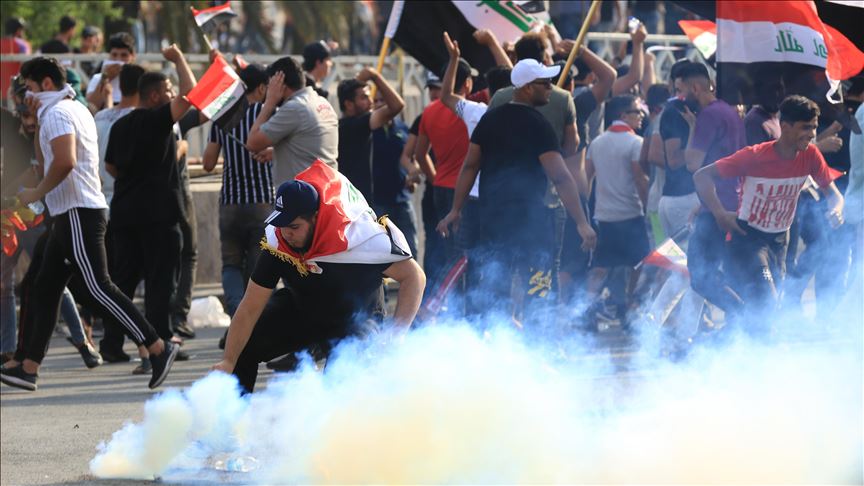 2019-10-02T17:18:40+00:00
Shafaq News/ Security forces dispersed protests in central Baghdad by force, causing casualties.
According to Shafaq News correspondent, the protests took place in Tahrir Square in central Baghdad, but the security forces dispersed them with live bullets and tear gas, resulting in several injuries.
Prime Minister , Adel Abdul Mahdi presided an emergency session of the National Security Council.
This comes after the social networking sites in Baghdad and some other provinces blocked access it with a very slow Internet service, in conjunction with protests in Iraq since yesterday.
Demonstrations renewed Wednesday morning in areas north of Baghdad, as security authorities cut a number of vital roads in the center of the capital.
Baghdad and other southern provinces have witnessed on Tuesday mass demonstrations demanding better services and fighting corruption, in which at least three civilians were killed and more than 250 wounded.
In the meantime, some areas of the capital Baghdad are witnessing a heavy deployment of security forces on the background of preparations for new protests.
Iraqi security forces reinforced their presence in the capital and fired shoot in the air to disperse demonstrators in Bab al-Sharqi area.
Earlier on Wednesday, Iraqi Army Chief of Staff Lt. Gen. Rukman Othman al-Ghanmi headed to Nassiriya with a military and security delegation amid news of gunshots directed towards the protestors .
The demonstrations broke out in several areas north and west of the capital and east to south as tires were burned and vital roads linking the capital with the rest of the provinces were blocked.