Yazidi leader praises al-Sudani's efforts to abolish Saddam Hussein's discriminatory policies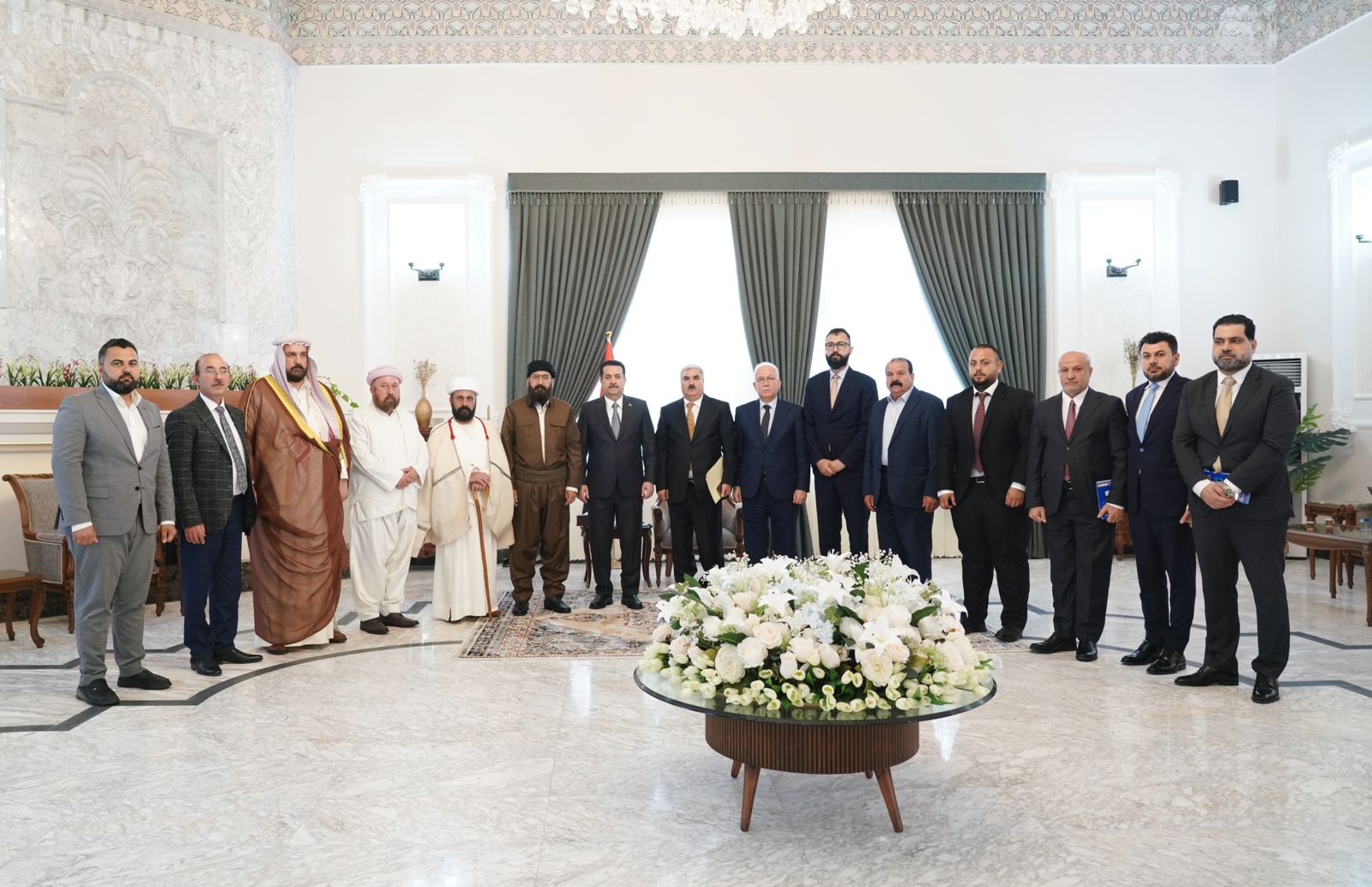 2023-05-13T09:17:44+00:00
Shafaq News/ Iraq's Prime Minister Mohammed Shia al-Sudani on Saturday reiterated his government's unwavering commitment to nurturing the Yazidi community and other minority groups in Iraq during a meeting on Saturday.
Those remarks came during a meeting with the Yazidi leader in Iraq and the world, Hazem Tahsin Bek, the chairperson of the Yazidi Supreme Council, Sheikh Ali Elias Haji, and their accompanying delegation at the Prime Minister's residence in Mosul earlier today.
According to a press release issued by his bureau, the prime minister paid his respect to the adherents of the Yazidi faith, who contribute significantly to the rich tapestry of Iraq's multicultural and diverse society.
He acknowledged the resolute national stance adopted by Iraqi Yazidis in their confrontation with terrorism and their unwavering determination against all plots aimed at uprooting their deeply ingrained Mesopotamian heritage while preserving their allegiance to Iraq.
The premier asserted the government's commitment to championing the Yazidi community and all other minority groups by safeguarding their rights and facilitating the restoration of their regions.
"This would be achieved through the execution of service-oriented and economic projects within the government's program, enabling the repatriation of displaced Yazidi families to their homes," he said.
Al-Sudani highlighted his cabinet's ongoing efforts to allocate residential properties and lands to Yazidi citizens, a process previously stymied by the erstwhile regime's discriminatory policies, offer compensations for the heinous attacks perpetrated by the terrorist group ISIS, and bestow their full legal rights.
On behalf of the delegation, Prince Hazem Tahsin Bek expressed gratitude to the prime minister for the government's endeavors in supporting the Yazidi community. He lauded the cabinet's decision to recognize the Yazidi New Year as an official annual holiday and its efforts to reverse the previous regime's discriminatory policies.