Yazidi council rejects the return of Sunni Arab families to Sinjar over IS ties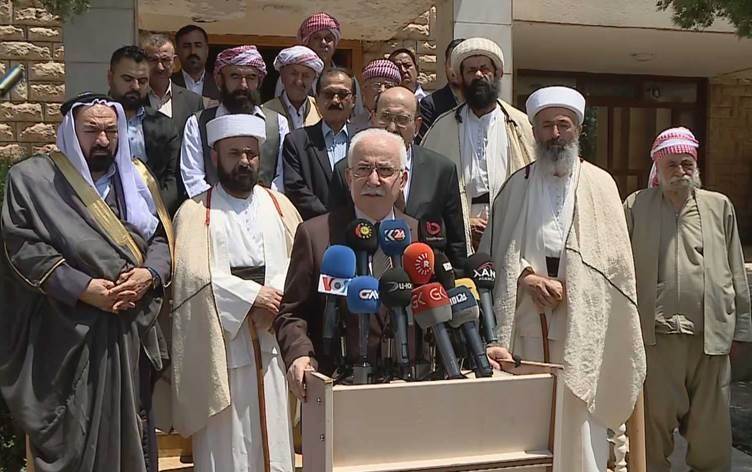 2023-04-29T11:07:13+00:00
Shafaq News/ The Yazidi Spiritual Council on Saturday said that the residents of the Sinjar District do not approve the return of some Sunni Arab families who collaborated with and joined the Islamic State (IS) during its control of the region in the summer of 2014 and committed atrocities against the religious minority.
In a press conference held earlier today, Karim Sulaiman, an advisor to the council, said that "the area's inhabitants do not support the return of some Arab families."
"We are in favor of consolidating coexistence in Sinjar and reject insult and attack on sanctities," he added.
The leader of the Yazidi community in Iraq and the world, Prince Hazem Tahseen Bek, expressed his firm rejection of the attack on the "al-Rahman" mosque in the Sinjar district during demonstrations opposing the return of some Sunni Arab displaced families on Friday.
Dozens of Yazidis in Sinjar district protested two days ago against the return of 25 Sunni Arab families to their hometowns in Sinjar, whom they accuse of having ties with the IS organization.
Khidida Jouqi, director of the Sonouni sub-district, north of Sinjar, told Shafaq News Agency that "security forces in Sinjar returned 25 Arab families who had fled to other areas in Mosul after the Islamic State's invasion of Sinjar areas in 2014."
She confirmed that "a Yazidi survivor recognized one of the repatriated people as a member of the IS group, which prompted the security forces to arrest him."
Jouqi explained that "the security forces returned these families without the permission of the other components that live in Sinjar, which led the people of Sinjar to take to the streets to protest against this action, chanting slogans rejecting the return of these families to the district."