US Ambassador to support the Iraqi government to overcome the current challenges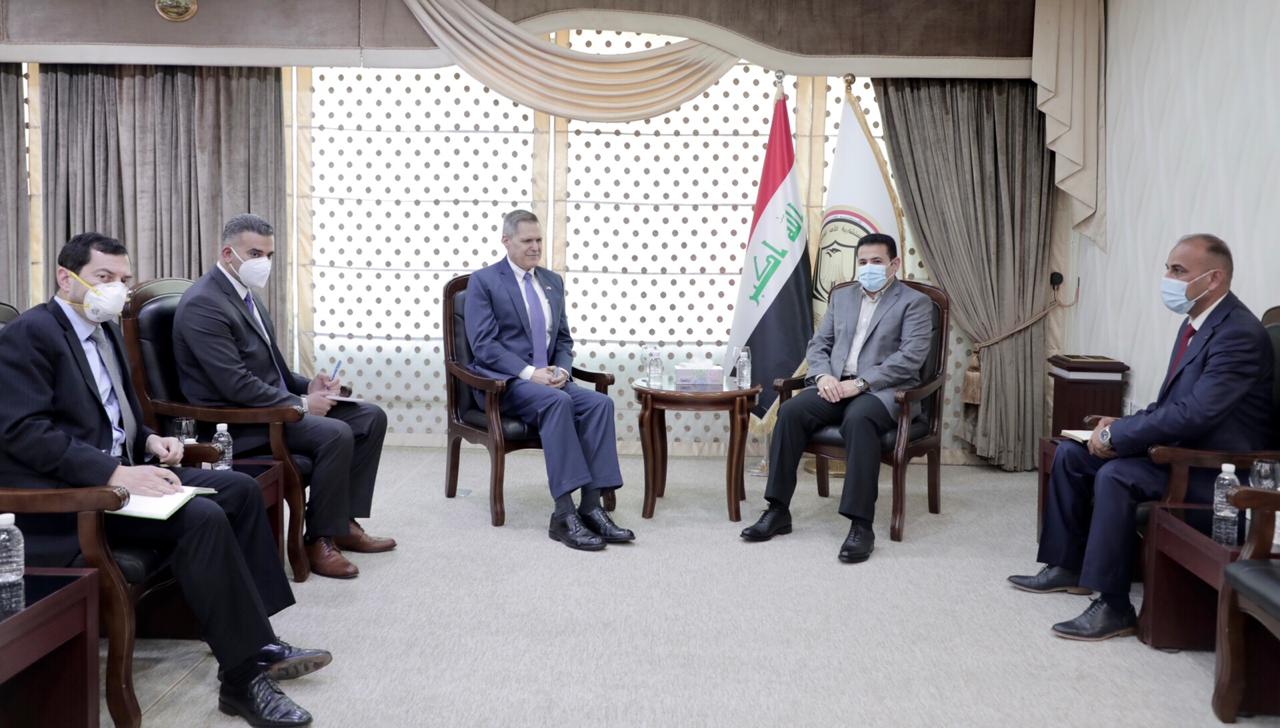 2020-09-28T10:06:20+00:00
Shafaq News / The National Security Adviser, Qassem Al-Araji met, on Monday, with the US ambassador of Iraq, Matthew Tueller.
During the meeting, they discussed strengthening joint cooperation between Iraq and the United States in all fields according to a statement by the Al-Araji office.
The US ambassador affirmed his country's support for the Iraqi government in the areas of security and combating terrorism, and insurance assistance to overcoming current challenges.
For his part, Al-Araji indicated that the current stage should witness more stability.
The US Department of State accused on Monday, Iran-backed factions of carrying out the bombing of the Green Zone in the capital, Baghdad.
A Department of State's spokesperson who preferred to be anonymous said to Shafaq news agency "We never comment on the Secretary's private diplomatic conversations with foreign leaders." Adding that "We have made the point before, however, that the Iran-backed groups launching rockets at our Embassy are a danger not only to us but to the Government of Iraq, neighboring diplomatic missions, and residents of the former International Zone and surrounding areas"
The spokesperson declared "As the United States works to secure financial support for Iraq from the international community and various private-sector businesses, the presence of lawless, Iran-backed militias remains the single biggest deterrent to additional investment in Iraq."
On Sunday, Washington Post said that The United States has told the Iraqi government and its diplomatic partners that it's planning a full withdrawal from its embassy in Baghdad unless Iraq reins in attacks on personnel linked to the American presence there.
A move that Iraqi officials said caught them by surprise.
If the administration moves forward, closing the embassy is expected to take 90 days, a window that would give Washington the opportunity to reassess the decision, said a diplomat familiar with the situation.
An Iraqi official said the U.S. government asked for stronger action against militias, suggesting that a shutdown could be averted if that occurred.
A spokeswoman for the State Department declined to comment on Pompeo's "private diplomatic conversations with foreign leaders" but underscored U.S. frustrations with "Iran-backed groups launching rockets at our Embassy."
A senior official in Kadhimi's office said Sunday that the prime minister is lobbying European partners to try to persuade the United States to reverse its decision, citing the "negative consequences" that it might have on the country's stability.
Officials from three European embassies in Baghdad said their countries would stay even if the United States left.