The Iraqi president highlights the need to address the "Malfunction" in the current System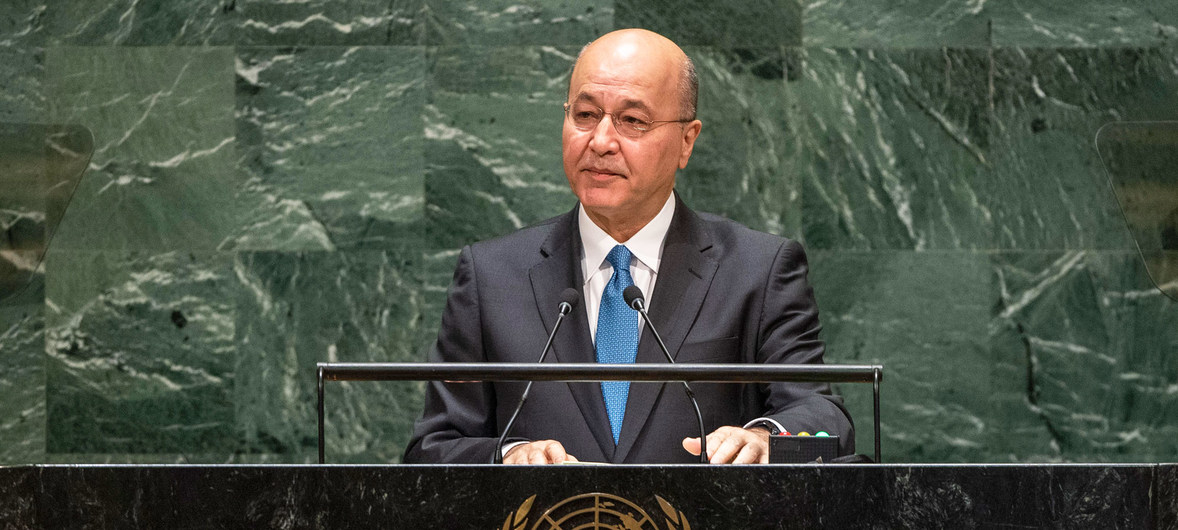 2020-09-23T16:06:33+00:00
Shafaq News/ The President of the Republic, Barham Salih, called on Wednesday for the formation of an international coalition against corruption, stressing the need to address the current "malfunction" in the system of government.
"This is the first time in the history of the United Nations during which we meet in the General Assembly virtually," Saleh said during Iraq's speech in the 75th session of the United Nations General Assembly, "the threat of the pandemic on any city or village on our planet, it a threat to the whole world".
Salih stressed the importance of early planning to ensure the fair distribution of the vaccine.
"negligence in combating corruption and interferences that affect national sovereignty would impede efforts to combat terrorism and extremism", Salih said, "We hope for support from the international community to uncover the smuggled money and the corrupts who smuggle these funds".
The Iraqi president renewed, "the call to form an international coalition to fight corruption and recover the stolen money".
He continued, "Iraq has witnessed a popular movement stemming from the desire to bring the change that suits the aspirations of all Iraqis to the country", explaining, "the path of reform has started in the country but it needs time and vigorous efforts to bring the desired results".
He explained, "A new government was formed under the leadership of Mustafa Al-Kadhimi in response to the great popular movement demanding reform", noting that, "Iraqis are looking for a new political contract that addresses the structural defect inherent in the post-2003 system of government and guarantees them good governance".
The Iraqi president said, "The government has great responsibilities in its basic aspect, which is to carry out political, economic and administrative structural reforms, combat corruption and the corrupts, endeavor to hold early elections next year and confine arms to the state".
"The recent statement of the supreme religious authority, Sayyid Ali al-Sistani, clearly expressed the tasks necessary to reform the course of the ongoing political process in the country", he continued.
"Our national project is the consolidation of a state capable of enforcing the law and able to fulfill the rights of its citizens", adding, "We look forward to effective support from our neighbors and the international community for this national project".
He continued, "Iraq confirms its position on the necessity of a solution to the Palestinian issue and the fulfillment of the rights of the Palestinian people in their independent state".