The Iraqi legal committee: Al-Kadhimi has no authority to set the elections date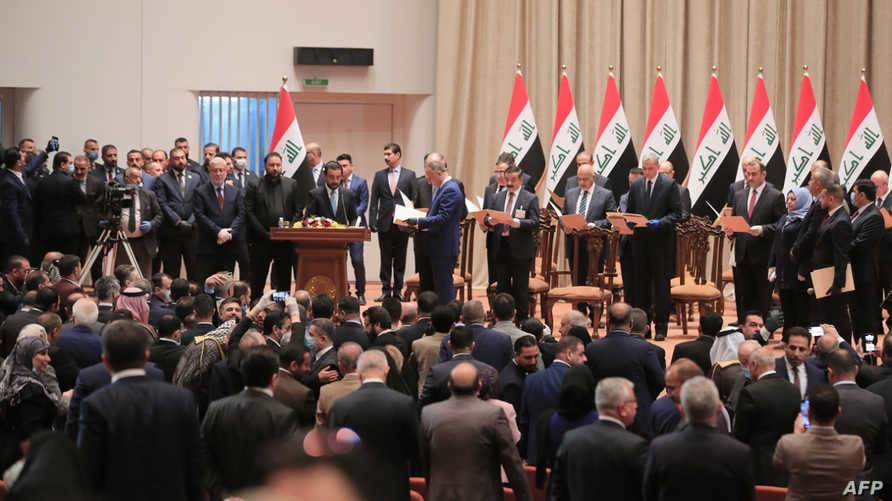 2020-08-01T11:51:12+00:00
Shafaq News / the legal committee in the Iraqi parliament rejected, on Saturday, Prime Minister Mustafa Al-Kadhimi's announcement of the date for early elections, which is the parliament authority.
Committee member Bihar Mahmoud told Shafaq News agency that, "Constitutionally, it is not the prerogative of the Prime Minister to set a date for early elections," noting that "his authority is only to set a date for regular elections."
Mahmoud added that "the holding of elections is governed by Article 64 of the Iraqi constitution," noting that" early elections are not held except with the approval of Parliament to dissolve itself by an absolute majority."
Mahmoud added, "After the House of Representatives agreed to dissolve itself, the President of Iraq requests early elections within 60 days," declaring that "the prime minister mixed between its power to indicate the date of normal and early elections."
Mahmoud said, "Determining the appropriate date for holding the elections depends on the High Commission's preparations of logistical materials and preparing its resources to conduct the elections."
Earlier, The Speaker of the Iraqi Council of Representatives, Muhammad al-Halbousi, called for legislative elections, at an "early" time, in response to Prime Minister Mustafa al-Kadhimi's announcement of early legislative elections on June 6, 2021.
For its part, Al-Kadhimi said that his government's goal is to "prepare for the early elections and solve the economic and health problems," calling for "early elections to be held on June 6 next year" and this was welcomed by "UNAMI".