Political uncertainty surrounds election of new Iraqi Parliament Speaker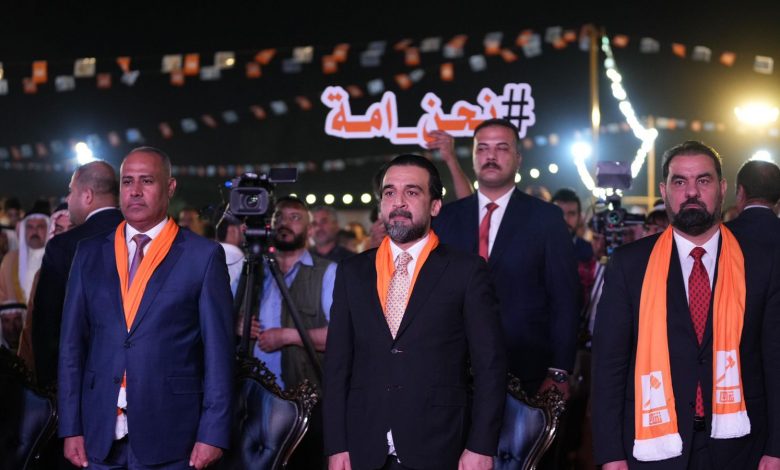 2023-11-21T10:56:38+00:00
Shafaq News / The "Takaddum" parliamentary bloc, affiliated with the former Speaker of the House of Representatives, Mohammed al-Halbousi, commented today on the decision to hold a parliamentary session tomorrow to elect a new head of the council.
Nahal al-Shammari, a deputy from the bloc, stated, "So far, we have not received any instructions from the bloc's leadership regarding our participation in the parliamentary session designated for electing a new head of the council." She confirmed, "We are currently boycotting the session and have not received any guidance regarding the selection of any candidate running for the parliament's presidency."
Al-Shammari added, "We expect members of the Takaddum bloc to participate in tomorrow's session to elect the new parliament president, which is an expectation and not an official directive. I believe that prominent candidates vying for the parliament presidency include Shaa'lan al-Karim and Haiba al-Halbousi. However, we are still awaiting the official guidance from the bloc's leadership."
On the other hand, MP Yousif al-Sabawi from "Takaddum" told Shafaq News Agency, "There is no agreement on any name or candidate for the position of the parliament's president," affirming that "no name has been officially proposed by the Takaddum or al-Siyada alliances."
He added, "Today, at 7 p.m., there will be a joint meeting between Takaddum and al-Siyada to present the names of the candidates and agree on a nominee for the parliament's presidency."
The Iraqi Parliament's leadership decided to formally terminate the membership of the Council's President, Mohammed al-Halbousi, based on the ruling of the Supreme Federal Court, effective from the 14th of November 2023.
Earlier, the Iraqi Parliament decided to dedicate its upcoming session, scheduled for tomorrow, Wednesday, to elect a new head of the council following the vacancy of the position.
The Supreme Federal Court, the highest judicial authority in Iraq, announced on Tuesday, November 14th, the termination of the Parliament Speaker Mohammed al-Halbousi's membership due to a legal lawsuit filed against him by MP Laith al-Dulaimi, accusing him of forging a resignation from his (al-Dulaimi's) parliamentary membership, leading the Federal Court to terminate both their memberships (al-Halbousi and al-Dulaimi).