PM Al-Sudani Announces Agreements and Hosts Dinner in Honor of Qatari Emir's Visit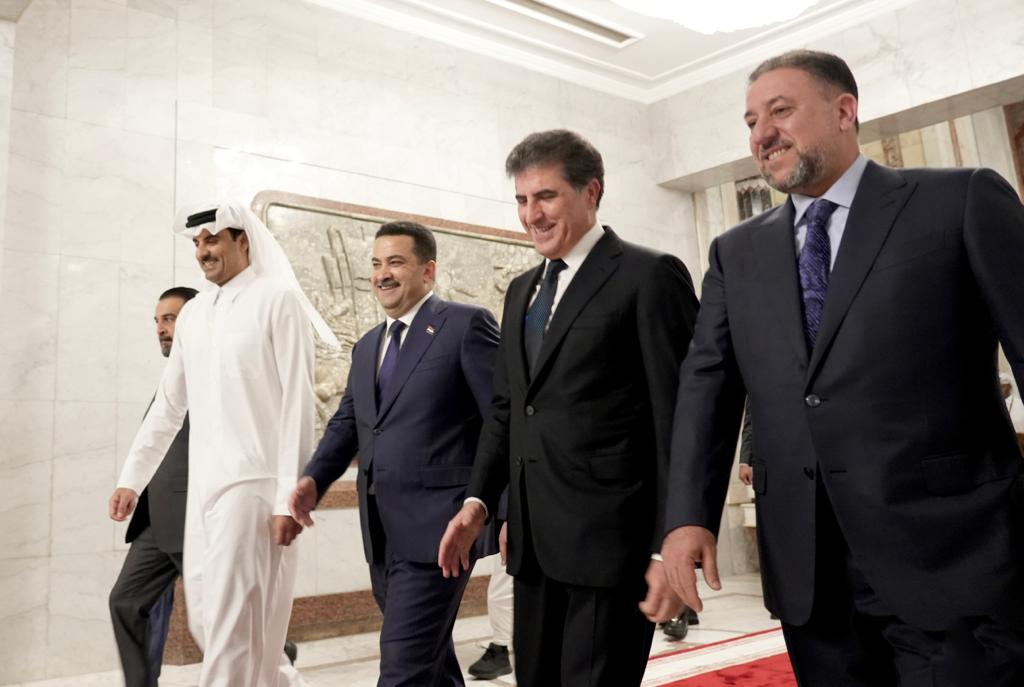 2023-06-15T18:51:33+00:00
Shafaq News/ Prime Minister Mohamed S. Al-Sudani's office announced on Thursday the details of the joint declaration of intent and agreements signed with Qatar during the visit of Qatari Emir Tamim bin Hamad Al Thani.
The agreements encompass various sectors such as politics, economics, energy, and investment, reflecting the comprehensive cooperation between Iraq and Qatar.
The signing ceremony, presided over by Prime Minister Al-Sudani and the Qatari Emir, marked the commitment of both countries to strengthen their collaboration. The joint declaration of intent sets the foundation for enhanced cooperation and partnership.
Furthermore, two agreements were signed in air and maritime transportation to facilitate connectivity and enhance trade between Iraq and Qatar. These agreements will contribute to the development of transportation infrastructure and the promotion of economic activities.
A memorandum of understanding was also agreed upon to waive visa requirements for diplomatic passport holders, promoting ease of travel and facilitating diplomatic exchanges between the two nations.
During the visit, several memorandums of cooperation were also signed in the energy sector. These agreements cover crucial areas such as crude oil supply, liquefied gas provision, the establishment of a joint oil company, and the construction of a refinery. Such collaborations will strengthen energy ties and contribute to the sustainable development of both countries.
Iraq's National Investment Authority signed four memorandums of cooperation with Qatari companies, including UrbaCon Trading and Contracting, Elegancia HealthCare, and Estithmar Holding. These agreements aim to promote investment opportunities, foster economic growth, and support the development of new cities, construction projects, and hotel infrastructure.
Prime Minister Al-Sudani hosted a dinner at his residence to honor the Qatari Emir's visit. The dinner was attended by esteemed guests, including the President of the Kurdistan Region, Nechirvan Barzani, Parliament Speaker Muhammad al-Halboosi, the head of the Al-Azm Alliance Khamis al-Khanjar, as well as delegations from Qatar and Iraq.
The event provided an opportunity for further discussions and the strengthening of bilateral relations between the two nations.