NATO Mission in Iraq Pledges Continued Support to Iraqi Security Forces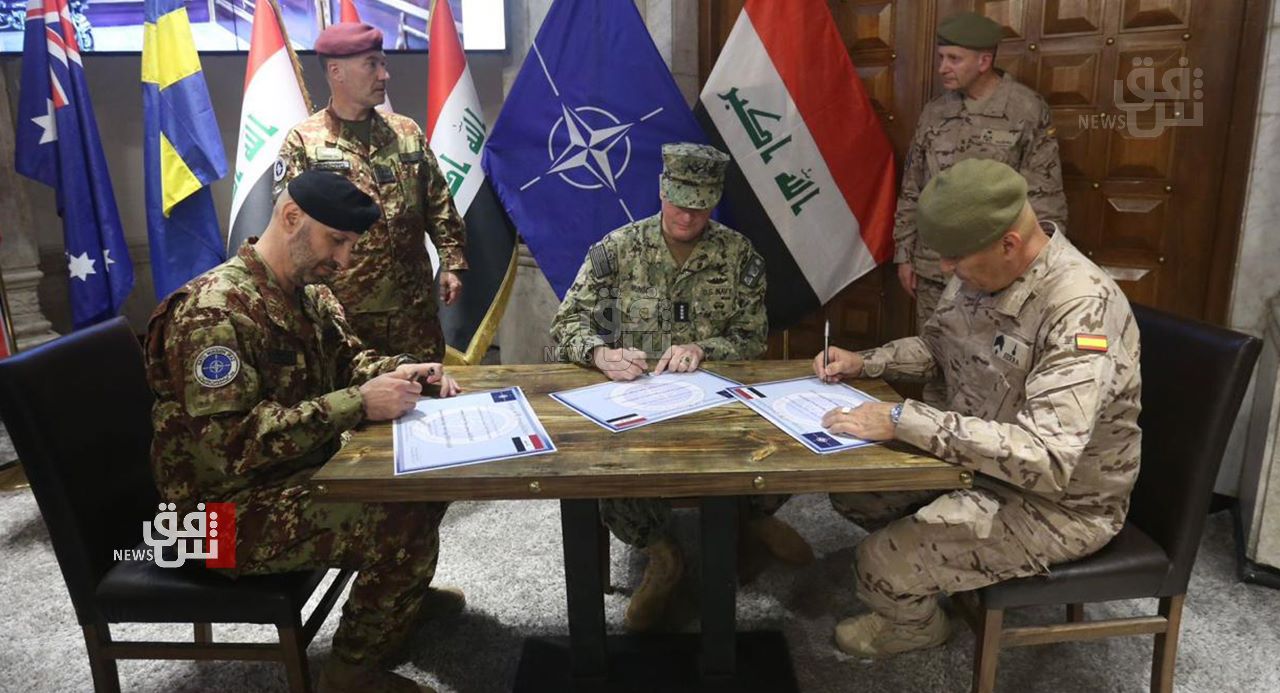 2023-05-24T11:04:09.000000Z
Shafaq News / The NATO mission in Iraq vowed to continue supporting the country's security forces through training and military advice, reaffirming that their presence is at the federal government's request.
This commitment came during the handover ceremony of the NATO command in Iraq between Lieutenant General Giovanni Maria Iannucci from the Italian Army and Lieutenant General José Antonio Agüero Martínez from the Spanish Army.
Speaking at the NATO headquarters, attended by a correspondent from Shafaq News Agency, the Commander of JFC Naples, Admiral Stuart B. Munsch, said, "We are honored to be in Iraq, and the command transfer ceremony reaffirms our engagement in this country openly and not in secrecy."
He added that the NATO mission focuses on training and advising, and their presence is based on the request of the Iraqi government. He further emphasized, "We have worked to support Iraq, train the current and future generations, and help them overcome challenges faced in the past."
Commander Munsch stressed that participation requires close cooperation with many officials in the Iraqi government, and they remain committed to supporting Iraqi institutions.
He continued by stating that the NATO mission in Iraq is a vital entity built on good relationships established by Commander Iannucci with Iraqi officials. Munsch also mentioned that the position is a continuous leadership role, and the past year has been "good" in terms of joint work and the support provided by the mission to the Iraqi armed forces.
Former NATO mission commander, Lieutenant General Iannucci, expressed his sadness at leaving behind many Iraqi friends, including the Chief of Staff of the Iraqi Army. He also acknowledged the Iraqi Army as one of the oldest armies, established in 1921, and one of the strongest in the region. Iannucci praised the Iraqi Army's culture, traditions, and capability to maintain Iraq's security. He mentioned discussions with Lieutenant General Yarallah to enhance the partnership between the Army and NATO forces.
During the handover ceremony, Lieutenant General Martínez, the incoming NATO mission commander, assured that as a Spanish commander, he assumes leadership today to command NATO's mission in Iraq, and there is no change in the mission's work.
He emphasized that all alliance members share common values, and NATO was born to counter external threats. He confirmed that the NATO mission now operates in Iraq at the government's request. He further stated that although Iraq is not in Europe, they can learn from the European experience, emphasizing that risks cannot be confined to specific regions in today's world. Finally, he highlighted that providing advice is NATO's primary mission in Iraq.
The new commander emphasized that the NATO mission requires the support of member states' ambassadors, and they should continue supporting the mission.