Iraqi Deputy Commander: NATO Mission to Continue Training and Advising Iraqi Forces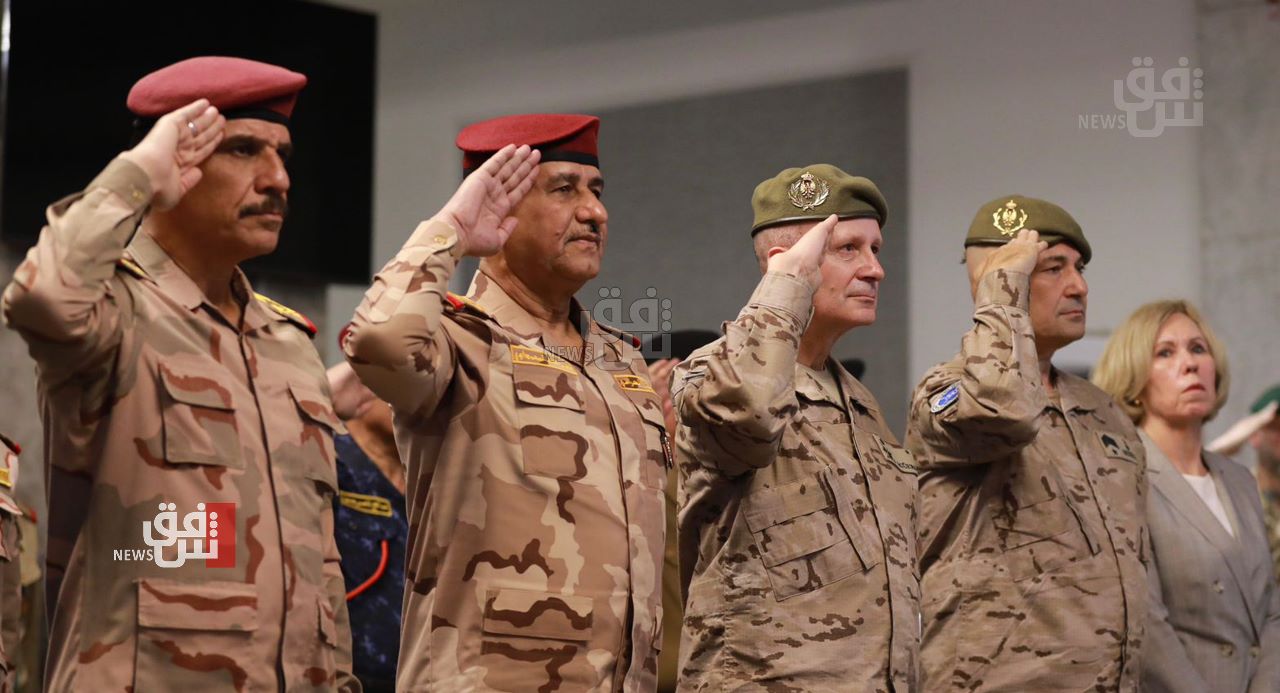 2023-05-24T14:51:39.000000Z
Shafaq News / On Wednesday, Lieutenant General Qais Khalaf Al-Muhammadawi, the Deputy Commander of the Iraqi Joint Operations, reaffirmed the unchanged nature of the NATO mission in Iraq, which focuses on training Iraqi forces and providing advice.
During the handover ceremony of the NATO command in Iraq, where Lieutenant General Giovanni Maria Iannucci from the Italian Army handed over power to Lieutenant General José Antonio Agüero Martínez from the Spanish Army, Al-Muhammadawi stated that while there is an annual tradition of changing the mission leadership in Iraq, the core responsibilities of NATO remain constant. He emphasized that the mission exists at the request of the Iraqi government and aims to offer advice, training, and support to military units.
Although Iraq is progressing towards self-reliance by leveraging foreign expertise and conducting joint exercises, Al-Muhammadawi highlighted the ongoing need for training, military advice, and participation in external courses.
He underscored the significance of the NATO mission, particularly for the Ministry of Defense, and praised its achievements in fulfilling 15 significant goals over the past two years.
Al-Muhammadawi proposed expanding the scope of the NATO mission to include training the forces of the Ministry of Interior, specifically the Federal Police, in maintaining internal security. He noted that progress is being made in attaining the common objectives set by the mission and highlighted the significant developments that have taken place throughout the year.
In the ceremony, the former NATO mission commander, Commander Iannucci, expressed his sadness at leaving behind many Iraqi friends, including the Chief of Staff of the Iraqi Army.
He also acknowledged the Iraqi Army as one of the oldest armies, established in 1921, and one of the strongest in the region. Iannucci praised the Iraqi Army's culture, traditions, and capability to maintain Iraq's security.
In turn, Gen. Martínez, the incoming NATO mission commander, emphasized that all alliance members share common values, and NATO was born to counter external threats.
He further stated that although Iraq is not in Europe, they can learn from the European experience, emphasizing that risks cannot be confined to specific regions in today's world.
NATO Mission Iraq (NMI) is a non-combat advisory and capacity-building mission. It was launched at the NATO Summit in Brussels in July 2018, following a request from the government of Iraq, and established in October 2018.
The mission currently involves several hundred personnel from Allied and partner countries.
NMI cooperates with partners like the Global Coalition Against ISIS, the European Union, and the United Nations.