Iraq's PM, Germany's Chancellor express optimism after Friday's meeting in Berlin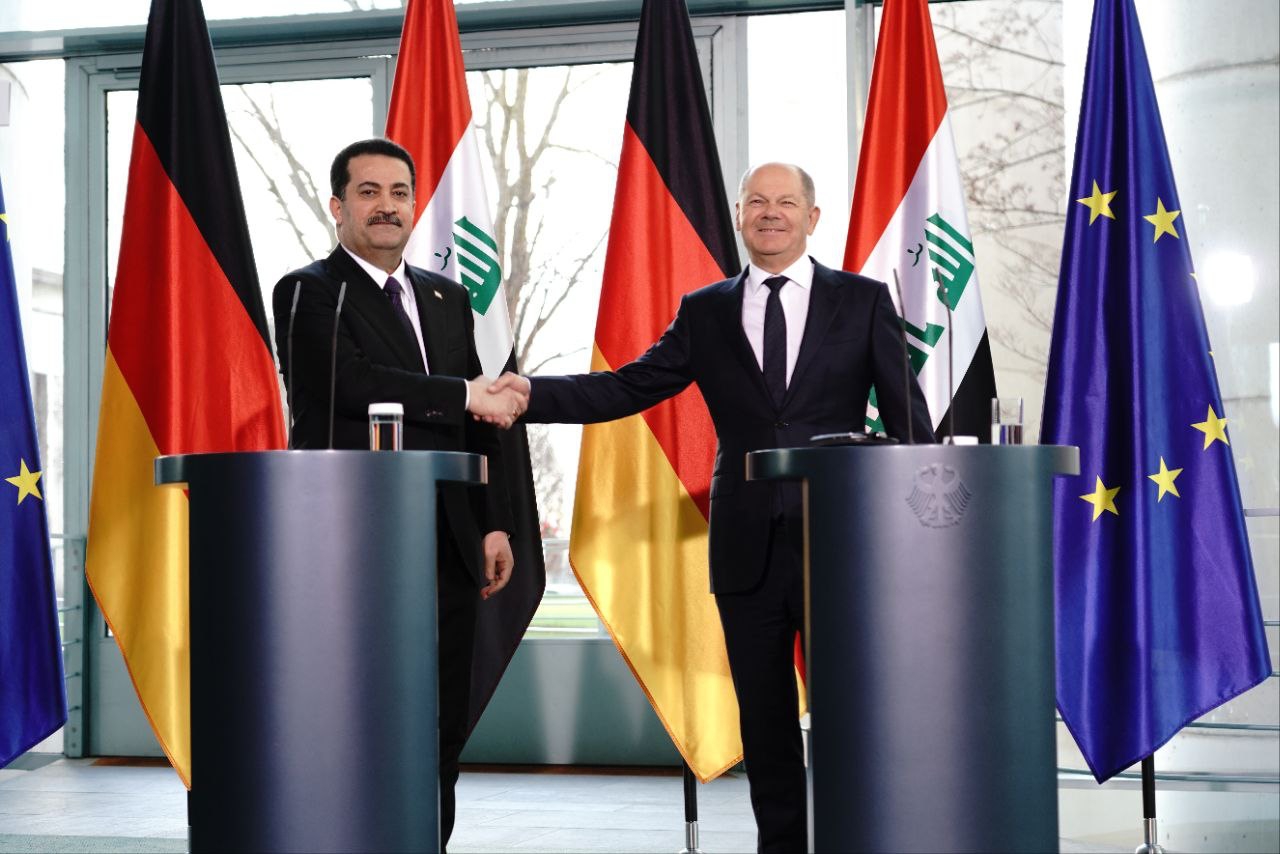 2023-01-13T15:58:15.000000Z
Shafaq News/ Prime Minister Mohammad Shia al-Sudani and Chancellor Olaf Scholz headed an expanded meeting between representatives of the Iraqi and German governments in Berlin on Friday.
Speaking in a joint press conference afterward, Prime Minister al-Sudani said the meeting heralds a "strategic relation" between Iraq and Germany.
The meeting, according to an official readout by al-Sudani's office, discussed prospects of economic joint action, plans to expand deals on fossil and renewable energy, and German investments in Iraqi infrastructure.
"Germany offered military support to Iraq in its battle against ISIS. It provided developmental support as well," al-Sudani said.
Scholz said that Germany helped Iraq recover from the atrocities committed by ISIS and continues to help achieve stability there.
"There is an opportunity to deepen our economic ties," he added, "I am pleased by the deal Iraq and Siemens concluded."
Germany is in talks with the Iraqi government over the possibility of importing natural gas from the oil-rich country, Chancellor Scholz said.
"We also talked about possible gas deliveries to Germany and agreed to stay in close contact," he added.
Baghdad has offered opportunities to German companies to invest in using Iraq's natural gas and the gas generated as a byproduct from oil production, al-Sudani said, adding that Iraq wants to deliver gas through a pipeline via Turkey to Europe.
Iraq continues to flare some of the gas extracted alongside crude oil because it lacks the facilities to process it into fuel for local consumption or exports.
Germany, which used to get 55% of its gas imports from Russia, has been seeking to diversify its LNG imports to avoid heavy reliance on a few exporters, after deals with Qatar and the United States.