Iran supports Al-Kadhimi's government to confront the crises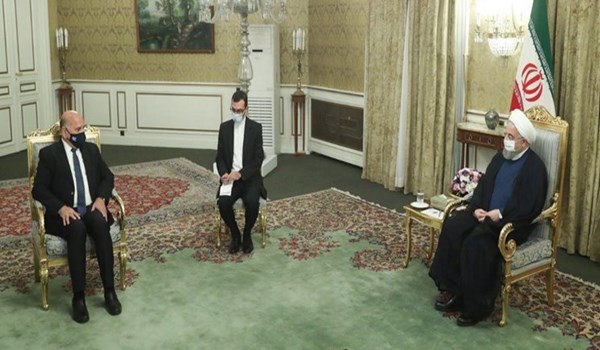 2020-09-28T07:48:44.000000Z
Shafaq News / the Iraqi Ministry of Foreign Affairs issued on Monday, a statement regarding Minister Fouad Hussein's visit to the Iranian capital, Tehran, indicating the agreement on the need to support Mustafa Al-Kadhimi's government to face the crises in Iraq and the region.
According to a press release reported to Shafaq News Agency, Foreign Minister Fouad Hussein made an official visit to the Islamic Republic of Iran, where he met with President Hassan Rouhani, then with his counterpart Muhammad Javad Zarif, and The head of Iranian Islamic Shura Council, Muhammad Baqir Qalibaf.
The ministry added that this is "the first visit to Tehran since the minister assumed his duties, and it lasted for two days."
Minister Hussein carried an oral message from Prime Minister Mustafa Al-Kadhimi to the Iranian President, which focused on developments in the region.
The parties discussed, according to the release, bilateral relations at all levels, praising Tehran's positions towards Baghdad, and the minister expressed Iraq's full appreciation for these solidarity stances.
After that, he met his counterpart, Muhammad Javad Zarif, and discussed common issues, regional issues, developments on the international level, and the importance of eliminating the tension and instability from the region.
He also stressed Iraq's position on resolving differences by peaceful means.
The minister had a meeting with the head of Iranian Islamic Shura Council, Muhammad Baqir Qalibaf in which he reviewed the challenges facing the region and discussed the most prominent developments in the region.
The Iraqi Foreign Ministry's statement indicated that the Hussein had a meeting with Ali Shamkhani, the secretary of the Supreme National Security Council of Iran, The discussion dealt with the tense situation in the region, and the need to exclude Iraq from the conflicts.
For its part, Shamkhani confirmed Iran's support for Al-Kadhimi's government.
The statement said that the two sides agreed the necessity for all Iraqi groups and parties to cooperate with the Iraqi government to confront the crises facing Iraq and the region, as the conflicts on the Iraqi territory may negatively affect stability in the region.