Has Naqshbandi movement returned to Iraq?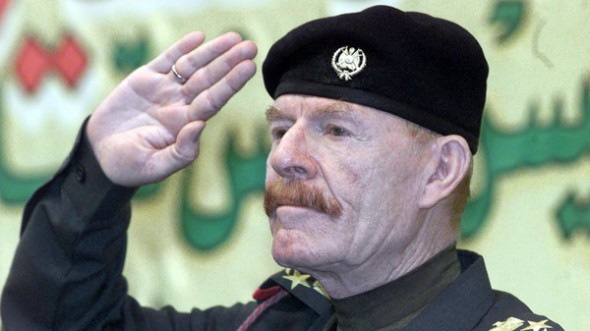 2020-07-29T19:47:06+00:00
Shafaq News / A local and security official in Saladin denied, on Wednesday, allegations about finding publications belonging to the Naqshbandi movement, headed by the Vice-President of the former regime, Izzat al-Douri, while a local official announced the arrest of several members of a cell promoting ISIS in Sulayman Beg.
Local press reports reported that publications belonging to the outlawed Naqshbandi movement had been found, and it was not confirmed whether the publications were old or new.
The media spokesman for the North Axis od Al-Hashd Al-Shaabi, Ali Al-Husseini, told Shafaq News agency that, "the security services and Al-Hashd are deployed in all villages and towns in the eastern districts of Saladin and Sulayman Beg. No publications related to the so-called Naqshbandi terrorist movement have been found, and we have not received any reports or information about it".
He added that "Al-Hashd forces launched an inspection campaign in all villages within the sectors of their responsibilities, and there is no place for any terrorist organization in those sectors".
For his part, the director of Sulayman Beg, which is affiliated to Amerli town, east of Saladin, Talib Muhammad Mustafa, told Shafaq News agency, "the security services arrested 4 members belonging to a group that was promoting ISIS by writing on the walls of some buildings inside the district", adding, "the security services continue to investigate with the detainees to reach the rest of the cell or group members", denying the existence of any publications promoting the Naqshbandi movement.
It is noteworthy that the Army of the Men of the Naqshbandi Order, is a Sufi Sunni faction, founded by Izzat al-Douri, former Iraqi Vice President Saddam Hussein in 2003, to resist the American occupation and the Iraqi government which he describes as sectarian, and presents himself as a defender of the marginalized Sunnis.
The faction was active in Kirkuk and Tikrit, the strongholds of the late President Saddam Hussein, in addition to Diyala and Saladin. Unofficial estimates indicate that the group included between 1,000 and 5,000 members before 2014.