Barzani, Austin discuss joint action against ISIS, Baghdad-Erbil disputes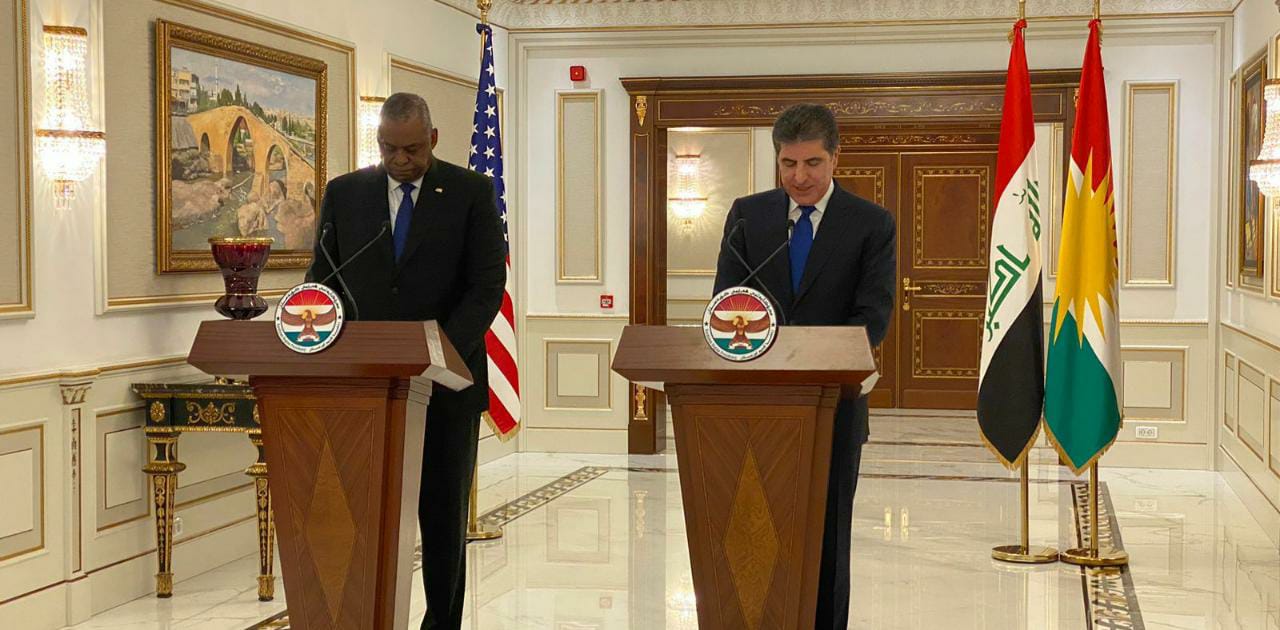 2023-03-07T14:30:31.000000Z
Shafaq News/ United States Defense Secretary Lloyd Austin arrived in Erbil, the capital of the semi-autonomous Kurdistan region in northern Iraq, from Baghdad on Tuesday.
Austin, who embarked on a Mideast tour to reassure key allies of the commitment to the region, swept unannounced to the Iraqi capital where he met with his counterpart, Thabet Mohammad al-Abbasi, and Prime Minister Mohammad Shia al-Sudani.
Shafaq News Agency correspondent said Austin and his accompanying delegation convened a meeting with the President of the Kurdistan region, Nechirvan Barzani, soon after his arrival.
In a joint press conference following their meeting, Barzani expressed his gratitude for Washington's longstanding support for Iraq and the Kurdistan region.
"Mutual interests and principles bring us together with the US," President Barzani said, "we thank America for their continuous support to Iraq and the Kurdistan Region."
Austin highlighted the heroics of the Kurdish Peshmerga forces in their fight against the Islamic State (ISIS).
"Through the global coalition to defeat Daesh [ISIS], we have liberated more than 50,000 square kilometers from the nightmare of Daesh and freed more than 4.5 million Iraqis, so let me applaud the invaluable contributions to this fight made by the Kurdish Peshmerga as part of Iraq's security forces," he said.
President Barzani said his meeting with Austin discussed the US support for the Kurdistan region in the battle against terrorism, reforms in the Peshmerga ministry, and the Baghdad-Erbil disputes.
The president said addressing these differences would lead to peace, security, and stability in Iraq, stressing that the Kurdistan Region will continue to be a factor of peace and stability.
Austin praised the joint work of the US and Kurdistan Region in facing the challenges posed by ISIS, stressing that the US will continue supporting the Peshmerga and Iraqi forces in their fight against ISIS.
Austin noted that the US is present in Iraq at the invitation of the Iraqi government and pledged to prop up the strategic cooperation between the Peshmerga Ministry and the US Defense Department.