Al-Kadhimi to reassess forces formed by Abdul Mahdi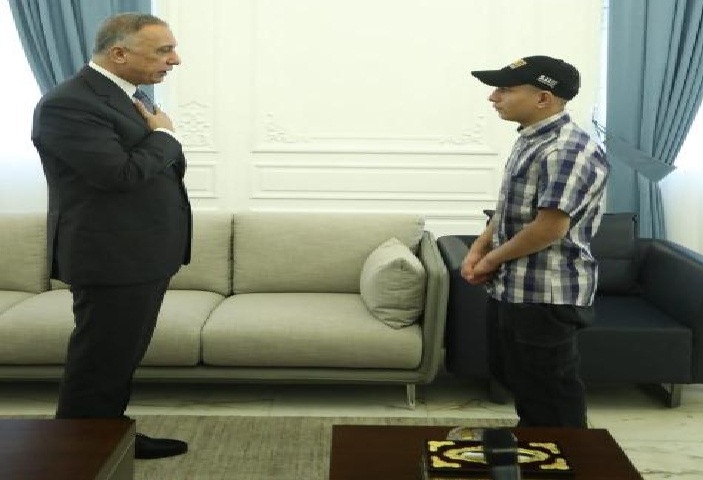 2020-08-03T10:49:51+00:00
Shafaq News / Iraqi Prime Minister Mustafa al-Kadhimi announced, on Monday, his intention to reassess the performance of forces of law, while promising that he would personally pay the "battered child" school expenses.
Al-Kadhimi said in a statement issued after his reception today, the child Hamid Saeed after his release, that "citizen Hamid Said has been subjected to an immoral attack, so the Commander in Chief of the Armed Forces ordered the formation of an immediate investigative committee that diagnosed within hours the names of those involved and canceled their contracts and referred them to court."
Al-Kadhimi explained that "what happened represents a scene of assaulting the dignity of the citizen, and that what we have fought during all the past years, and we will fight to prevent it from happening again."
The PM saluted the security services, for the heroic work and what have already sacrificed and are still sacrificing and fighting for Iraq, saying that what happens didn't reflect their real achievement.
He pointed out, "The leadership is in the process of reassessing the performance of these forces, because the basis of its formation is to protect people, not to insult them."
Al-Kadhimi confirmed his directive, "to implement a campaign to educate about human rights principles, behavior and application within the Ministry of the Interior, in its apparatuses and among its affiliates."
He also directed "to provide a lawyer to assist the child Hamid Saeed, and to provide him with legal support."
Al-Kadhimi, according to the statement, thanked the President of the Supreme Judicial Council, Fayeq Zaidan, for resolving the legal issues related to the issue of the child's release.
Yesterday, Sunday, the Supreme Judicial Council decided to release what he described as a "battered child" after his arrest by a security force in Baghdad, and his claim that he was tortured after a video was spread on social media triggered controversy.
The video shows a number of people dressed as security forces hitting and cursing the teenage boy who appears to be under the age of 18.