Al-Kadhimi to "Blackmailers": I am a living martyr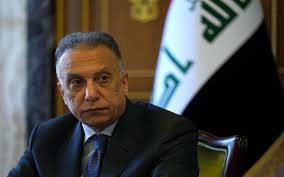 2020-07-27T17:14:57+00:00
Monday, that his government will not shed any blood at all costs, warning those whom he called blackmailers, "I am a living martyr..stop manipulating".
Al-Kadhimi said in a televised speech, "This government came after a sea of ​​blood, and it will not cause bloodshed at all costs. I always biased towards the people, yesterday, today and tomorrow. I will not take sides with others."
He stressed, "I will not take sides with anyone who tries to blackmail. I told you I am a living martyr, so do not try to manipulate."
"I tell the young: The view that we all must adopt despite our different ideas in Iraq, the unity of Iraq, the security of Iraq, the peace of Iraq, and the future of Iraq."
Reiterating, "I said from day one that I am not aspiring for a position and that my government will work for early elections. I insist on these elections. Two days ago, I spoke at the meetings of the three presidencies about the need to remove obstacles to the elections."
He stressed by saying, "The moment I took office, I swore to keep the trust and I maintain the trust. Therefore, there will be early, free and fair elections."
On the electricity crisis, Al-Kadhimi said, "I support the demands of the people to hold accountable those who caused their suffering. I am awaiting the results of the committee formed by the parliament to investigate all the failures in the electricity file."
Al-Kadhimi called on the legislative authority to "urgently submit its report to be added to our investigations to put this file before the Iraqi people and the judiciary."
He indicated, "the government signed a few days ago the electrical interconnection agreement in the Gulf and we are proceeding with this issue seriously," adding that, "we decided to produce gas to operate Iraqi gas stations. It is not our fault that successive governments imported gas-powered stations and did not work on Iraqi gas."